Celebrating its second Christmas, Ungifted allows you to take part in the Secret Santa tradition,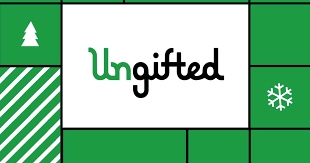 without being a part of a mass-produced junk problem that's harming the planet.  And the online service is perfectly positioned to bring families together over the upcoming, self-isolated festive season.
More Mugs anybody?
While many of us are still working from home, Secret Santa traditions are still set to go ahead this year, albeit via Zoom, and many are bracing themselves for another cheap, useless gift from a colleague.  Instead of giving each other unwanted stuff, the Secret Santa service from Ungifted offers surprises which are then revealed at an online Unwrapping party. Keep an eye on your emails to find out who you've got.
Suggestions include curating Spotify playlists or a month or memes; sending motivational memes for a month; watching and reviewing movies on behalf of friends; scheduled coffee-based (virtual) chats, sharing spooky stories or committing to a year of loyalty in the form of 'Likes'. You can also create your own gifts, perfectly tailored for your office family. The gifts are unveiled via a shared-screen to mimic the real-life experience as much as is possible.
Ungifted founder Naresh Ramchandani wanted to transform the Secret Santa ritual and get away from "the mounds of novelty office tat we've bought each other over the years. Most of those unwanted gifts has ended up in landfill."
Bad Santa
He  was inspired by horror stories of the worst secret Secret Santa gift ever received. :
*"Condoms. From the MD. Mortifying!"
* "A mini hot water bottle with Anne Frank on the cover. I had no words!"
*"Sheep slippers – because I'm Welsh. They were too small"
*"I'm over sixty and someone bought me an edible thong."
"While our motivations are worthy," said Ramachandi, "we still think Ungifted is a more fun and meaningful option, and everyone who signs up could actually get something they really enjoy this Christmas."
How does Ungifted work?
Step 1: Sign up your team or group of friends, and their secret sorter will do its matching-up magic
Step 2: Choose from a range of zero-waste, creative gifts (or create your own) and write your Ungifted message
Step 3: Set the date for your shared-screen gift reveal, and when the time comes, unmute your mic and let the fun begin.
To find out more about Ungifted, head to https://ungiftedsecretsanta.com