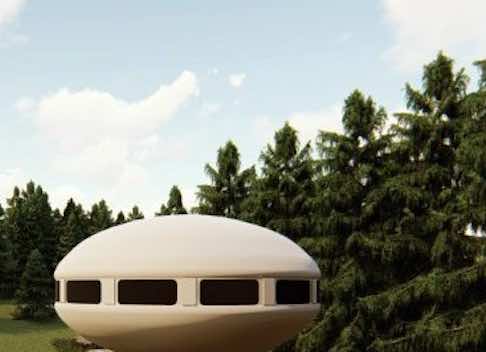 A new report on the off-grid housing market claims the sector is growing at 7% per year and will reach $68b per year by 2028 thanks to increasing awareness of the advantages of off-grid housing, such as energy independence, cost savings, and environmental sustainability.
SkyQuest's research report says to interest in eco-friendly and minimalistic housing options requiring less energy is leading to the growth. Banks and insurance companies are now offering specialized insurance packages for off-grid homes, says the report which is likely to boost growth further.
The growing availability and affordability of renewable energy technologies have made it easier for people to live off-grid, reducing their reliance on traditional energy sources and decreasing their environmental impact.
Solar energy is the main power source for off-grid homes, allowing self-sufficiency and energy independence. Off-grid solar systems rely on solar panels and energy storage devices like solar batteries to provide electricity without needing a power grid. In addition, solar energy is a clean and renewable energy source, making it an attractive option for environmentally conscious consumers looking for sustainable and eco-friendly ways of powering their homes and businesses.
The need for reliable and sustainable energy sources in rural areas has led to an upsurge in off-grid solar power installations, providing a further incentive.
US Lighting Group, Inc. has announced the formation of wholly-owned subsidiary, Futuro Houses, LLC, to meet the demand for affordable housing. The new venture offers a self-sufficient, cost-effective, and energy-efficient housing solution for an off-grid lifestyle. With its smaller footprint, self-sufficient design, and low environmental impact, Futuro Houses is positioning itself to appeal to those seeking a modern, off-grid lifestyle.
Zendure, a rapidly growing clean energy tech startup, has unveiled its latest innovations in portable solar power at Intersolar North America. At the forefront is the SuperBase V, which is the world's first modular, portable power station with semi-solid state batteries. This new technology delivers more reliable, safer, and cleaner energy to users wherever and whenever needed. The SuperBase V is a versatile power station for various purposes, from RV and off-grid living to EV charging, whole-home power, and emergency backup.
SEI Logistics, a Canadian company, has launched a new solution for off-grid power in remote and extreme locations. The portable, folding solar panels and battery kit are specifically designed for the oil and gas industry, where reliable power sources are crucial in harsh environments. The kit is housed in a durable case built to withstand extreme cold and harsh weather conditions. This product offers a sustainable and cost-effective alternative to traditional power sources in remote locations.
Main suppliers of Off-Grid Housing
American Tiny House
Designer ECO Tiny Homes
Aussie Tiny Houses
ZOLA Electric
Greenlight Planet
Abengoa Solar
Sunrain
BrightSource Energy
Solectria Renewables
Canadian Solar Inc.
Winch Energy
Sunpower Corporation
Forest River Inc.
Thor Industries Inc.