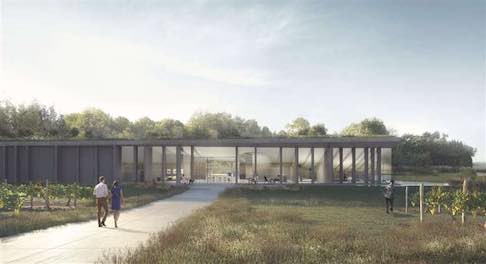 From cucumbers to bees to wine to sheep, there are scores of off-grid farming start-ups in Britain today.
In Kent, permission has been granted for the UK's first hydrogen-powered winery. The lot is now up for sale for £525,000. If built on the four-and-a-half acre site, to the west of the village of Egerton, the winery would be a UK-first, according to the listing on LoopNet.
In 2019, planning permission was granted to build a modern winery, complete with warehouse, wine shop, tasting room and accommodation. Planning documents from 2019 say that the building, once completed, would be run by an eight-person team, growing to 11, with visitors attending the site occasionally. In 2022, the green light was given to install a specialist hydrogen facility that would power the site all year round – said to be the first of its kind for a winery in the UK.
It would consist of solar panels, steel hydrogen storage tanks and other equipment that would, according to planning documents, allow the facility to be off-grid. However, the site remains empty and has now been put on the market for purchase alongside the granted planning permission. At £525,000 – a price of around £116,000 per acre, the listing describes it as "a freehold development opportunity for an 'off grid' viticultural warehouse with additional retail space, storage rooms and offices which could create the perfect self-sufficient package in an area of Kent that is well suited for wine production".
At the other end of the scale, simplicity is at the heart of the system at Maes Yr Onn, an 81 hectare (200 acre) unit in South Wales.
Breeding mountain sheep is something Arthur Davies has been involved in from a young age. The farm is completely off grid, with power mostly coming from solar panels and a generator for backup, while water supply relies on rain. No forage is made on the farm and Mr Davies does not keep a tractor, with any machinery work needed carried out by contractors.
The  focus is the flock of 180 South Wales Mountain ewes, kept alongside 10 Blue Grey calves that are bought in annually to help manage grassland.  "The main aim is breeding rams, that is what it is all about for me," Mr Davies says.  "About a dozen are sold in Nelson in the autumn, with excess lambs now sold direct to an abattoir in Caerphilly for Halal."
The first draw of lambs is taken at the end of June and then weekly when they are fit." Ewe lambs which meet the breed standard are retained, with others sold at sales or privately in September. "Most of the breed used to be white all over, more like a Talybont Welsh. However, today they are known for their red collars and beards. "
"They are 50 per cent kemp and 50 per cent wool, then if they are wet it is just a couple of shakes until they are dry," says Mr Davies
In recent years, he won the breed female championship in multiple farming shows.  "I live for show week," Mr Davies says of the upcoming Welsh farming show. "It is the best display of livestock in Wales, if not the UK."
Auto Amazon Links: No products found.