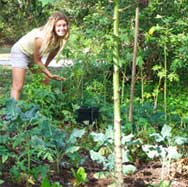 Tia Meer in her organic garden A couple living off-grid by the shores of the Econlockhatchee River, Florida, are about to be featured in an upcoming issue of O, The Oprah Magazine, which has about 2.7 million readers, in an article titled "Back to Basics" about Americans embracing a "less is more" philosophy of growing your own vegetables and living simpler lives. a more simple life.
Oprah Winfrey's crew found Terry Meer and Tia Silvasy Meer down a leaf-strewn gravel path, their home sitting on 10-foot concrete stilts.
Remote Technology
"They found us on the Internet," said Tia Meer, 28. "They sent an entire crew here and spent five hours. My face hurt from smiling so much."
The couple built the little log house in east Orange County and added an array of solar panels. Its galvanized metal roof is equipped with rain catchers that send water into a cistern. And with water from a well to augment what's stored in rain barrels, they are effectively free from modern utilities.
They can still surf the Internet at night with laptop computers and use cell phones driven by batteries.
Ecomagination
Tia Meer is the founder and president of the Simple Living Institute, an Orlando group started in 2002 to promote a less-polluting lifestyle. It promotes ideas such as using reusable cloth shopping bags and growing vegetables.
"If you look back just 60 or 80 years ago, most people living in Florida grew most of their own food and were fairly independent," she said. "We say, why not go back to that?"
Tia Meer said the couple hatched the idea back when they were students at the University of Central Florida interested in the environment.
Terry Meer learned long ago about conservation and making do with less. He was born in Miami on a sailboat; many of his younger years were spent living on the boat with his parents, three siblings and a dog.
"On the boat you learn to conserve everything, especially water," he said.
It has taken the couple about 18 months of nights and weekends — and free labor from friends — to build the Florida Cracker-style house with a wraparound porch. The traditional design also includes tinted, double-pane windows with argon gas between the panes for extra insulation. The walls are sprayed with synthetic-foam insulation, so it takes very little energy to keep the house warm.
The steeply pitched metal roof has wide overhangs to protect the porch from sun and rain and shade the interior during the hot summer months.
It has cost them about $150,000, in part because they're building it themselves.
Tia Meer kept her day job at Lake Front Design as a native-plants expert, helping property owners identify and remove invasive plants. Terry Meer took a year off from running his Orlando-based consulting company, Alternative Concepts, which designs energy-efficient systems for new and existing homes.
Heat comes from a small wood stove. In the summer, they plan to cool their bedroom with a single-room air conditioner. The design of the house — including the pitched roof and 10-foot pillars — creates natural cross-ventilation.
Organic Gardens
They also have five organic gardens, a small mushroom farm, a composting area and fruit orchards — including mangoes, avocados and tangerines — on the property.
They recycle everything. Even water from their showers gets piped to the banana grove.
"We hope we can educate and inspire people," Tia Meer said. "This can be a better, simpler life. We can grow our own food. Power our house. Everything we need we have right here."
The Meers built the 1,024-square-foot, one-story house to demonstrate that people can live comfortably and still leave less of an impact on the environment.
"We want to show people that it's possible, so what better way than for us to do it ourselves," he said.
They're getting their wish and a national audience.