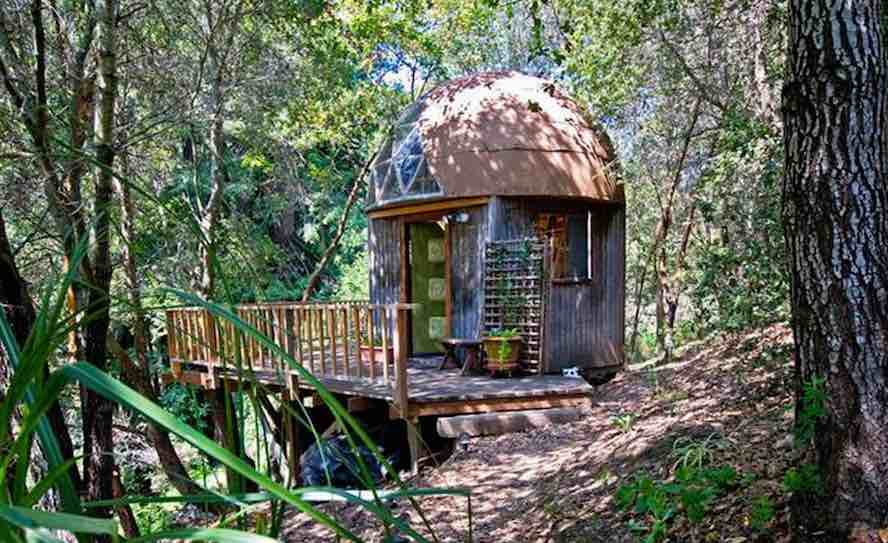 Hurry! AirBnB has just announced the world's most popular getaway — its an off-grid mushroom-shaped shed located in 10 acres of woodlands in Coastal California
The Mushroom Dome Cabin in the woods near Aptos, USA, still has a few free days left this year.
The abode is just a 10-minute walk from the beach, located on 10 acres of land – and is fully booked until November this year. Except for these slots (correct at time of writing, but it wont last).
April 21, 22, Sept. 2, 17, & 23 are the only days open before Oct. Since they book so far in advance, you can also check their other listing, the Hummingbird Haven. 
With a geodesic dome loft & a large deck in the trees, you'll feel like you're in a tree house in the woods. They have been listing with airbnb since July '09 and have hundreds of five star reviews!
The one-bedroom treehouse-style cabin has a geodesic dome loft, kitchen facilities, shower and a compost toilet.
Close to Monterey Bay, Big Sur and the Forest Nisene Marks State Park, this is the ideal place to stop off on your Californian road trip.
You've got to plan ahead if you want to stay in the Mushroom.Bookings start from £157 per night, and you need to book at least nine months in advance.