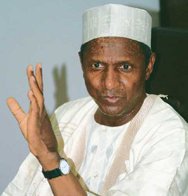 Ayodele – pushing for people power Nigerian States, and local governments are close to agreement on a way  to operate  a series of independent grids in order to solve long-standing energy shortages. Its unintended consequence could be the eventual break-up of the Nigerian State.
When implemented, power generated in the individual States will no longer have to go through the nation's distribution network, the national grid. It will also mean that power distribution will no longer be managed by the Federal Government only.
State governors, according to the country's influential Business Day, made representations to President Yar'Adua, mostly on an individual basis, to change the policy so they can manage the dynamics of power supply in their respective states.  The main problem was the huge losses  being made as the power passed through the grid.
Though state governments have been involved in power generation since the beginning of this decade, their output has been slowed by the limited benefits that have accrued to them from their investments.
The power projects include those of Lagos (AES), Delta, Rivers and Akwa Ibom among others. The central argument that has trailed the power projects is that the respective states are not benefiting from their investments in power generation made in the last few years. It is thought that outputs from the Independent Power Projects (IPP) plants disappear once they are ploughed into the national grid.
The executive director, generation, Power Holding of Nigeria (PHCN), John Ayodele, said states and even private organisations can build and operate localised grids or distribution systems of their own. He said government is motivated to apply the concept because of the need to stimulate economic growth in the rural areas as states will be free to generate power and distribute to a target area without its been dissipated in the national grid.
According to him, government has realised that it is not economical for IPPs to invest in the national grid. "States and local governments can start up off-grid generation to boost their economies. If a company is to generate four megawatts which might cost N10 million and would need about N25 million to tie it to the national grid then it becomes uneconomical for its operation."
He said provided the states and local government would ensure that they have outlined the means and procedures through which they would recoup their investment without imposing uncompetitive tariffs on consumers, the government would routinely approve such ventures.
Goody Duru–Oguzie, managing director of PowTechnologies, said the arrangement would be the best thing that would happen to the sector as it would reduce deficiency in the sector.
He said Delta State has secured a license to generate 2,800 megawatts and distribute and thereafter sell to whoever that wanted to purchase it from the state government.
According to him, organizations and institutions such as the Murtala Mohammed Airport need such a facility to be able to operate well. The airport can generate its own power to maintain it facilities instead of waiting to get power from the national grid.
Many of the deficiencies afflicting the sector are said to be linked with weak transmission lines that have inadequate capacity to deliver the available power to end users from the generation stations.
The minister of power, Lanre Babalola, told Business Day recently that most efforts to improve transmission today are to expand some particular corridors of transmission and also reinforce them. "It is not just the power coming from Afam VI that we are worried about; Alaoji Power Plant would also be evacuated from that axis and also Afam V which is under PHCN. By the time this work is finished, we expect 1,050megawatts supply. This is going to be between Afam V and Afam VI. The line can actually pass 1000mw from Afam to Alaoji.