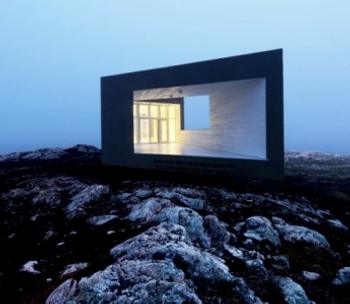 Fogo Island Arts colony is a new idea for revalising a declining rural community.
A series of pavilions cut like shards of volcanic stone are being constructed on an island off the coast of Newfoundland, at the edge of the raging Atlantic.
Zita Cobb, a native of Fogo Island and president of the Shorefast Foundation, is investing some of her dot-com millions to reposition her remote community into a cultural, architecturally enlightened destination.
The Long Studio, a box clad in blackened rough-sawn pine that telescopes its length and mighty view toward the Atlantic, has already been completed. Four other studios, with steel legs drilled down into the rock, and a studio tower, now under construction, are scattered nearby.
They're all self-sustaining, off-the-grid capsules, without any power connecting them back to the surrounding villages, constructed by local builders, including the sustainable design innovations: water collection, solar panels, thick, highly insulated walls. Sheppard Case Architects of St. John's are the lead local consultants.
A mission of Shorefast, a non-profit that fosters social entrepreneurship, is to provide visiting writers and artists time and space to do their work while breathing new life into a community hit by the cod fishery collapse and out-migration. Instead of outport, Cobb wants us to consider the communities of Fogo and nearby Change Islands as places of intake.
To that end, she's commissioned the renovation of several traditional "saltbox" houses, where artists will live within the clutch of a community, and walk 10 or 15 minutes to their Todd Saunders-designed studios.
All six studios are scheduled to be complete by June. A five-star inn for tourists, also by Saunders, is under construction. Besides the sauna and spa facility, there will be culinary delights on the menu to satisfy the foodies who flock with growing regularity to the island.
The Long House floats above the volcanic rock on wooden stilts in the same way as much of Newfoundland's outport housing. The ground is uneven and it's too impractical to dig down. And this way the brutal winds can scream over and under the building rather than beating against an impossible wall.
The interior of the Long Studio is clad entirely in white-washed spruce, the better for artists, writers or filmmakers to sketch on or paint over or pin up their storylines. "I'm not a really big fan of over-detailing," says Saunders. "It can be very expensive. We boil it down until we have the absolute essence. If it's a good idea, you should be able to build it out of rubber or paper and it'll still be strong."
Fogo Island Arts colony is a new idea for revalising a dying rural community.
A series of pavilions cut like shards of volcanic stone are being constructed off the coast of Newfoundland at the edge of the raging Atlantic.
Zita Cobb, a native of Fogo Island and president of the Shorefast Foundation, is investing some of her dot-com millions to reposition her remote community into a cultural, architecturally enlightened destination.
The Long Studio, a box clad in blackened rough-sawn pine that telescopes its length and mighty view toward the Atlantic, has already been completed. Four other studios, with steel legs drilled down into the rock, and a studio tower, now under construction, are scattered nearby.
They're all self-sustaining, off-the-grid capsules, without any power connecting them back to the surrounding villages, constructed by local builders, including the sustainable design innovations: water collection, solar panels, thick, highly insulated walls. Sheppard Case Architects of St. John's are the lead local consultants.
A mission of Shorefast, a non-profit that fosters social entrepreneurship, is to provide visiting writers and artists time and space to do their work while breathing new life into a community hit by the cod fishery collapse and out-migration. Instead of outport, Cobb wants us to consider the communities of Fogo and nearby Change Islands as places of intake.
To that end, she's commissioned the renovation of several traditional "saltbox" houses, where artists will live within the clutch of a community, and walk 10 or 15 minutes to their Todd Saunders-designed studios.
All six studios are scheduled to be complete by June. A five-star inn for tourists, also by Saunders, is under construction. Besides the sauna and spa facility, there will be culinary delights on the menu to satisfy the foodies who flock with growing regularity to the island.
The Long House floats above the volcanic rock on wooden stilts in the same way as much of Newfoundland's outport housing. The ground is uneven and it's too impractical to dig down. And this way the brutal winds can scream over and under the building rather than beating against an impossible wall. The interior of the Long Studio is clad entirely in white-washed spruce, the better for artists, writers or filmmakers to sketch on or paint over or pin up their storylines. "I'm not a really big fan of over-detailing," says Saunders. "It can be very expensive. We boil it down until we have the absolute essence. If it's a good idea, you should be able to build it out of rubber or paper and it'll still be strong."