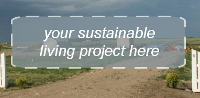 A rural Canadian town is boosting its population by offering newcomers the chance to build a sustainable community from scratch and live off the grid.
CBC's The Passionate Eye followed the residents' first year in the eco-village in Craik, Saskatchewan  , about 80 kilometres north of Moose Jaw, resulting in the Eco-Home Adventures documentary,
available to watch online
.
The half-acre building lots were offered for just $1. "I was lured by affordability and the idea of small town going eco," says Kelly Green, who moved to Craik from Toronto.
Unlike the other families – including an ex-military man, his wife and four kids; a couple with plans for a healthy home for their two boys along with a music studio, photo studio and pottery studio; and a woman planning for a tiny "hobbit house" while facing custody battles –
Green and Bridget Haworth
decided to buy and retrofit a home in the middle of town, with plans to build an off-grid complex, including living space, a coffee shop and the headquarters for their eco website www.boilingfrog.cawww.boilingfrog.ca.
"It was decided that renovating an old house would be more eco-friendly and perhaps a little bit easier than building from scratch," he explains. Their decision to retrofit the home using strawbales, which was a bit of an experiment, turned into an enormous task, says Green.
"Not having any experience in building or renovating, working on the house was very challenging. It would have never gotten as far as it did without help from the locals."
If given the chance to start over, he says he may have decided to try building from scratch or would have started the retrofit by replacing the roof prior to wrapping the house in straw, because the old roof didn't offer enough protection for the bales, leading to months of living in a house wrapped in tarps.
To help reduce his eco-footprint, Green says he's practicing the "Three Rs" reducing his consumption, reusing by purchasing used and shopping at the Habitat ReStore for construction and reno materials, and recycling. He's also cut out chemical cleaners – including shampoo – and strives to eat local, sourcing food from his own garden as well as local gardeners and farmers.
For people not quite ready to go off the grid, Green suggests planting a garden, cutting down on electricity consumption by turning off power bars, lowering the thermostat by a few degrees at night and washing clothes in cold water and hanging to dry.
Homeowners can also look into installing an on demand hot water tank, or wrap their existing units in an insulating blanket. He also suggests looking into a heat recovery unit that siphons heat from wastewater and puts it back in the tank, as well as checking the home for leaks and repairing or renovating where needed, for example with caulking, insulation or new windows.