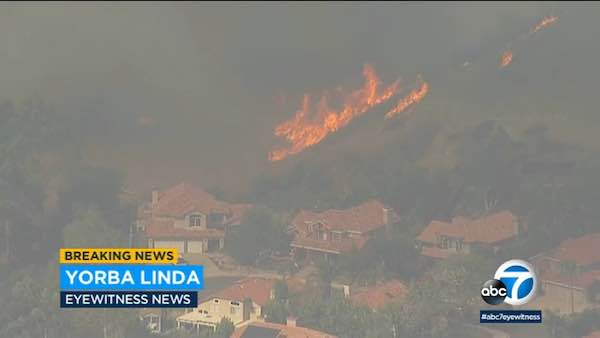 Oct. 28—Thousands of Southern Californians were without electricity for a third  day Wednesday, as the region's largest utility turned off power to areas where strong Santa Ana winds were causing high fire risk.
Power company Southern California Edison told state regulators that its equipment might have ignited one of a pair of fast-moving wildfires in Orange County, Calif., that have prompted evacuation orders for 80,000 people.
A few miles to the north, the Blue Ridge Fire also broke out Monday and has blackened more than 10,000 acres and led to evacuation orders for the city of Yorba Linda. Both conflagrations were driven by Santa Ana winds gusting up to 80 miles an hour. In all, more than 16,000 homes valued at $14.1 billion were at risk from the twin fires, according to estimates by Realtor.com.
Simultaneously About 355,000 power customers – covering an estimated 1 million people – were in the dark in the northern part of the state as officials issued warnings for what could be the strongest winds in California this year.
The fast-moving wildfire forced the evacuation of 70,000 people and seriously injured two firefighters in Southern California on Monday as powerful winds across the fire-fatigued state prompted power to be cut to prevent utility equipment from sparking new blazes.
The wind-driven fire spread to more than 16 square kilometers within a few hours of breaking out around dawn in Orange County, south of Los Angeles.
Strong gusts pushed flames in Silverado Canyon and near houses in Irvine, a city of about 280,000 residents 65 kilometers southeast of Los Angeles.
Two firefighters, aged 26 and 31, were severely burned as they battled the blaze from the ground, Orange County Fire Authority Chief Brian Fennessy said.
Water-dropping helicopters were briefly grounded because the winds made it unsafe to fly.
Officials did not immediately know the cause of the fire, one of several that broke out across the region.
Tinder-dry weather
The electricity shutdowns marked the fifth time this year that Pacific Gas & Electric, the nation's largest utility, cut power to customers to reduce the risk of downed or fouled power lines or other equipment that could ignite fires amid tinder-dry weather conditions and powerful wind gusts.
The conditions could equal those during devastating fires in California's wine region in 2017 and the Kincade Fire that devastated Sonoma County north of San Francisco last October, the National Weather Service said.
Fire officials said PG&E transmission lines sparked that fire, which destroyed hundreds of homes and caused nearly 100,000 people to flee for their lives.
Extreme fire danger moved into Southern California late on Sunday following cooler temperatures over the weekend. A area north of Los Angeles recorded a wind gust of 156 kilometers per hour.
"We have very strong winds and very low humidities, and that's causing ideal conditions for a very strong Santa Ana event with high fire danger," David Sweet, a meteorologist with the National Weather Service in Oxnard, told the Los Angeles Times.
Sheriff Kory Honea of Northern California's Butte County, where a 2018 blaze decimated the town of Paradise and killed 84 people, said he's concerned about residents in foothill communities during the blackouts because cellular service can be spotty and it's the only way many stay informed.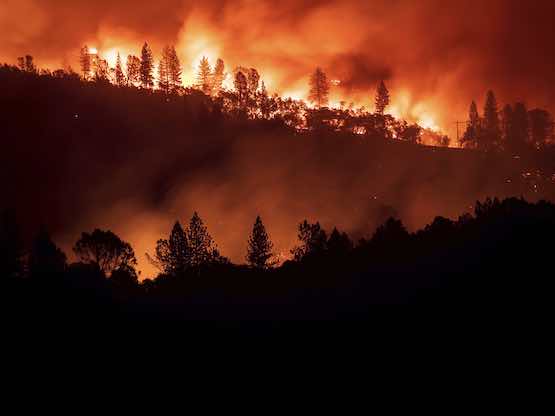 "It is quite a strain on them to have to go through these over and over and over again," he said.
University of California, Irvine, said it was suspending campus operations for the day because smoke and ash were making the air hazardous.
On the second day, the number of fire-risk-related outages decreased through the afternoon. By 6 p.m., Southern California Edison was shutting off power to about 10,000 customers. Each customer is a home or business that may include multiple people.
The most affected customers — 6,301 — were in San Bernardino County. Another 1,810 were in Riverside County, 1,271 were in Orange County, 566 were in Los Angeles County and 117 were in Ventura County.
Edison was estimating that some of those areas could be without power until midday Wednesday, depending on conditions.
The number of outages had declined from about 20,500 customers at 11 a.m. Tuesday and from more than 38,000 customers as of 7 p.m. Monday.
To see a regularly updated map showing where Edison has cut power or is considering it because of fire risk, and when power is expected to be restored, go to their web site.
While Edison is the region's largest electricity provider with about 5 million customers, some Southern California cities have their own utilities. Here are the  utilities that provide power outage maps:
* Anaheim Public Utilities
* City of Colton Electric Utility
* Los Angeles Department of Water & Power
* Pasadena Water and Power
* Riverside Public Utilities
While the Santa Anas were weakening Tuesday, the National Weather Service was predicting sustained winds of up to 30 mph and gusts as strong as 50-60 mph across Southern California. Red flag warnings, meaning critical fire weather is likely, were in effect through Tuesday evening.
The outages are known as public safety power shutoffs. In recent years, in the wake of several deadly wildfires that were sparked by electrical equipment and spread by the strong winds that California experiences each fall, utilities have begun shutting off parts of their grid to reduce the danger.
"Turning off our customers' power is not something we take lightly, but PSPS events are one of the ways we can better ensure the safety of the public, our customers, and our employees," Edison says on its website.
Edison sends out "community crew vehicles" to affected areas. Customers can get information about the outages along with light snacks, water, "resiliency devices" and personal protection equipment. Visitors are being asked to wear masks and practice physical distancing.
On Tuesday, the vehicles were to be at these locations:
* 11200 Baseline, Rancho Cucamonga (9 a.m. to noon)
* 5500 University Parkway, San Bernardino (9 a.m. to 3 p.m.)
The same resources are available at seven community resource centers from 9 a.m. to noon unless otherwise noted:
* Cabazon: James A. Venable Community Center, 50390 Carmen Ave.
* Canyon Country: College of the Canyons, 17200 Sierra Highway, Building 200, Room 202
* Fontana: Jessie Turner Health and Fitness Community Center, 15556 Summit Ave.
* Moorpark: Boys & Girls Club, 200 Casey Road
* Orange: Sears, 2100 N. Tustin St.
* Santa Clarita: Agua Dulce Women's Club, 33201 Agua Dulce Canyon Road (9 a.m. to 3 p.m.)
* Simi Valley: Boys & Girls Club, 2850 Lemon Drive