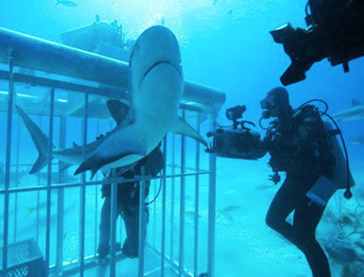 There's nothing quite like the great outdoors. However, with the hustle and bustle of daily life it can be difficult to get out there are truly appreciate all nature has to offer, if you want to share that experience with your children. But there are educational programs on TV that are a great and exciting substitute. Here are three of the best nature and survival shows.
Discovery Series North America
This series will explore every natural wonder North America has to offer, from the tropical rainforests of Panama to the blistering cold tundra in Canada. The production crew has traveled through the Yukon Territory, the lush rain forests of Belize, the snow covered Rocky Mountains, the desolate deserts of the Southwest United States and so much more. The crew spent 2,830 days on 250 separate expeditions, with over 850 hours of footage to put together this long-awaited series.
The first five episodes will feature intimate stories of a few selected animals struggling to survive the harsh and deadly weather and terrain. There will be a host of never-before-seen sequences from desert jaguars to grizzly bears diving for Alaskan Salmon.
The series will be narrated be the American award-winning actor Tom Selleck. Selleck, a Michigan native, has garnered a reputation over the years as an outdoorsman. He has expressed his interest and excitement in narrating the series for some time.
Shark Week
This is a great educational program to watch with your children. This week long program has had droves of success since its first broadcast in 1987. It is aired annually in July or August, is dedicated completely to sharks. Shark Week is broadcast in over 72 countries as is extremely popular on the web and social media.
The show has also had a number of notable hosts. Here is a quick list of some of the hosts Shark Week has had over the years.
• 2005- Adam Savage and Jamie Hyneman from Discovery Channel's Mythbusters.
• 2006- Mike Rowe from Dirty Jobs
• 2007- Les Stroud, host of Survivorman
• 2008- Hosted by both hosts of Mythbusters and Mike Rowe
• 2010- The Late Late Night Show's Craig Ferguson
• 2011- Andy Samberg
• 2012- Phillip DeFranco
Dual Survival
This is arguably the best survival show on cable television. The show treks the wilderness, following two uniquely different survivalists that have very different survival styles of Cody Lundin and Joseph "Joe" Teti. Lundin is a primitive-skills expert and natural who runs the the Aboriginal Living Skills School in Arizona and Tetis is a former Force Recon Marine and is retired from the Army Special Forces.
The series will follow the two as the battle different survival situations such as being marooned on an island, tangling with a jungle, or stranded in the arctic tundra. They must survive as certain number of days with a limited number of supplies. Each member of the tandem will demonstrate different survival skills that will help them survive along the way. One of the focal points of this show will be the differences between Teti and Lundin. Both are very knowledgeable survivalists, so it will be interesting to see how the two tough it out in the wilderness.