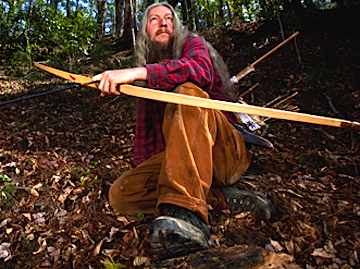 The love affair between reality TV and the off-grid lifestyle continues with the new series Mountain Men (finale this thursday 8/9pm)on History Channel.
Eustace Conway, one of the stars of Off the Grid: Inside the Movement for More Space, Less Government, and True Independence in Modern America

is a lead character. The sales pitch for the series links it unashamedly to off-grid living – "Have you ever wondered what it would be like to live your life off the grid?" runs the Web site. "Have you wished you could shed the complications of modern society and live in the wilderness, using only the things nature has provided? "
And like all reality TV, the cracks are showing as viewers realise that the series is extremely unreal.
Set in the Great Outdoors, viewers love to see stars in such reality shows as Man Vs Wild and Doomsday Preppers suffer at the hands of Mother Nature – as has frequently happened to them on family backpacking trips. Unlike their suffering, however, reality stars' woes are anything but real.
Last March, Discovery Channel fired Bear Grylls, the star of "Man vs. Wild." It may have had something to do with the fact that Bear wasn't spending as much time in the wilderness as viewers were led to believe.
This month you can catch "Mountain Men" on the History Channel. First you sit through a bunch of commercials for erectile dysfunction and other drugs.
Then you meet the reality how stars. "Mountain Men" features three so-called mountain men: Eustace Conway, owner of Turtle Island,a fertile couple of hundred acres in N.C.; Marty Meierotto, from somewhere in Alaska; and Tom Oar, who lives in the wilds of the Yaak and Kootenai valleys in western Montana.
Eustace, who spends most of the show feuding with an incompetent intern, nevertheless trusts the lad to sight in his deer rifle. Then he goes deer hunting and fails to hit the deer with a clean shot, then loses the blood trail.
Eustace went down to his mailbox on the latest episode of the History Channel's Mountain Men to find a letter threatening to take his property if he doesn't pay his taxes.
"What pisses me off," Eustace says, "is crazy people focusing on foolish things like taking my land away that have no idea that the land is the most important, sacred thing in my life, period. The people that are suing me, I never even met the people, and yet they're taking my land away? B*******." But, Eustace isn't taking the lien against his property passively. "What this land means to me is life. It's about existence. This is home. I'm ready to die to take care of this mountain."
Marty, who clearly has enough blubber to stay warm in what we are told is "minus 60-degree temperatures," gets stranded 10 miles from his cabin when his snowmobile breaks down. After a harrowing snowshoe hike on what appears to be a trail packed so hard you could drive a tank on it, he reaches the safety of his cabin.
His first move is to dip drinking water from a pot. Strange that Alaskan water doesn't freeze at 60 degrees below zero.
Then, the next morning, he packs a 70-pound snowmobile motor back to the stranded sled and installs it. It is snowing at 60 degrees below zero and Marty gets cold, so he struggles to start a fire.
Tom goes duck hunting in a Kootenai River boat, blasts one duck and sends his dog into the river to retrieve it. The dog gets lost.
Tom goes out looking for his dog and his wife gets worried and calls a neighbor on what appears to be a cellphone. But later in the show, we are told there is no cell reception in the wilds of the Purcell Mountains.
These guys could use a few tips from Bear Grylls. Maybe History Channel should snap him up.
Auto Amazon Links: No products found.