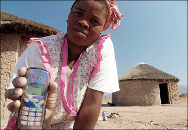 In the developed world, folks tend to go off-grid for ideological reasons. But in the developing world the main reason people need off-grid electricity is to power their mobile phones, says a new report out this week.
The study by computer firm Cisco found that the explosion in mobile phone use is a prime factor driving tens of millions people in the developing world to set up off-grid power, says the study.
Meanwhile UK  technology consultancy Mobile Experts says in a separate report that mobile telephony is driving the growth of a new microgeneration industry in the developing world -based on renewable energy.
The Cisco report examines the factors affecting global demand for mobile phones. It says that the demand for mobile telephone services has outstripped grid-bound electricity supply in 32 countries.
It predicts that by the end of 2015 the "off-grid, on net" population will reach 138 million. The trend will be visible at regional level for the first time this year when the total number of mobile users in Sub-Saharan Africa and Southeast Asia exceeds the total on-grid population.
And by the end of 2013, it predicts that the number of mobile users in the Middle East will exceed the Middle Eastern on-grid population, with the same phenomenon occurring in South Asia by 2015.
Cisco describes the explosion  of mobile telephony in the developing world as "astonishing".  
The Mobile Experts report says that the growth of mobiles is not merely driving people off-grid, it is reshaping energy provision in many developing countries. "Of the world's 6.8 billion people only 4 billion are already using mobile phones. The next 2 billion mobile phone users will come from rural areas, largely in developing countries, and tapping this rural developing market will require new and different infrastructure," writes John Madden principle analyst at Mobile Experts LLC.
He says rising oil prices and declining costs of renewable energy mean that within three years renewables will be more profitable to use for powering mobile phones than diesel.
"Economics has favoured diesel generators due to their low capital cost, but as the cost of diesel fuel has risen and the cost of solar panels and wind turbines has dropped, the return on investment (ROI) equation is changing. It is now set to flip in favour of renewable energy by 2014 – when the payback of the cost of an off-grid renewable power plant will have dropped to less than a year."  
However Cisco says the boost for renewables may not be permanent. "Breaking the electricity barrier" may be a short-lived phenomenon, since electricity access is likely to catch up to mobile access in the long term (perhaps even in response to the demand for mobile services)," it concludes. ENDS