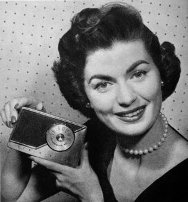 How they used to look Universal Digital radio (DAB) hasn't reached the US yet, because of Sirius and other satellite services.
In the UK,  the switchover has begun, and as well as getting all the BBC channels, listeners can receive obscure stations nationally such as Passion for the Planet or the Parliament channel. The benefit is perfect clarity, but the new generation of digital radios can be energy hogs. I have been trying out the Move Portable DAB from Pure.
Pure  has launched a range of low energy radios (Buy here in the UK).  The Move is the smallest, and also has the longest lasting battery, 30 hours fully charged.
I took it with in the camper van while visiting various obscure parts of the South West UK last week, and it works great, even while on the move.  When there is no DAB signal, the radio switches to FM.