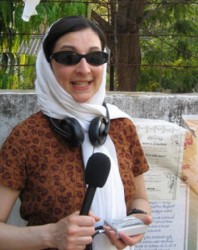 They are common in Europe, but only a dozen canal boats operate in the USA. Why so few is a mystery because it is fun and easy. Now Cynthia Berger and Bill Carlsen are planning to make the canal boat as big as the RV in America.
They are piloting their solar-powered hybrid canal boat around "The Great Loop" — the system of waterways circling eastern North America. The first leg of their journey took them east on the Erie Canal to Lake Ontario. Berger filed this report:
One goal of our trip has been to learn — hands on — about sustainable technologies. We've turned our boat, which we named Dragonfly, into a hybrid vehicle. It came with a diesel engine; Bill also installed eight large solar panels on the boat's flat roof, along with half a ton of batteries to collect the power the panels generate.
We weren't sure how far we could go on solar power. So far, the solar array has exceeded expectations. When our batteries are fully charged (which doesn't happen every day in cloudy upstate New York) we can run for about eight hours. And our electric motor — designed by an engineer who has built some of the fastest electric motors in the world — can move our 14- ton boat at about 5 mph (even though Bill had projected our top speed on electric power at 3 mph.)
Canal boats are common in Europe. In Holland alone there are about 100,000. Great Britain has 25,000 of them, and Brits go "canaling" much the way Americans go camping in Winnebagos. But as far as we can tell, in all of North America there are a mere two dozen or so canal boats. So our boat attracts attention wherever we dock. First, people comment that our vessel resembles European canal boats. Then, they notice the solar panels. We're a traveling museum of technology.
Besides learning about alternative technologies by using them on our boat, we wanted to see what sorts of innovative things people and businesses are doing with sustainable technologies in the communities we visit. We've visited a vacation resort that's completely off the grid. We've met a builder of wooden boats who has just launched a solar-electric boat that merges 1880s design with the latest technologies. And we heard about a solar-powered winery.
Huck Finn famously said. "It's lovely to live on a raft." I have to say the same about our boat. We spend a lot of time outside, since Dragonfly has the most simple steering mechanism possible — a tiller, which is a long pole attached directly to the rudder. So, to steer, you sit outside, at the stern, not inside a wheelhouse like most big powerboats.
But we're not exactly roughing it. Our boat is very homey inside. It has knotty-pine paneling, even curtains. We call it "the home that roams." Wherever you are, all the comforts are at hand.
Traveling the Erie Canal has been like traveling back in time. We've seen hardly any other boats — mostly forests and fields and small towns where Main Street looks much like it did 100 years ago. Kingfishers and great blue herons escort us on our way. At the Montezuma National Wildlife Refuge, just west of Syracuse, N.Y., we saw a bald eagle on a nest high in a tree, guarding a single chick.
From Erie we headed north, along the Oswego Canal to Lake Ontario. We weren't sure how our vessel, designed for canals, would handle on open water, with wind and waves. But the day we crossed the northeast corner of the lake — steaming past the massive nuclear power plant at Nine Mile Point and past a vast field of wind turbines — Dragonfly bobbed through the waves like a duck.
Berger is a producer at WPSU-FM; Carlsen is a professor of environmental education at Penn State. The 6,000- mile-long trip is his sabbatical project.
You can follow the adventures of the Dragonfly at slowboatcruise.com. The next stage of the voyage follows the Trent-Severn Waterway, a system of rivers, lakes and canals that runs from Lake Ontario to Georgian Bay on Lake Huron.