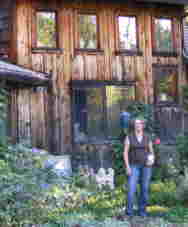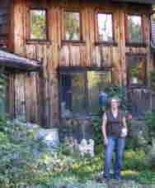 Lucky Colleen in front of home Colleen Stewart has a job many would envy – she is in charge of hospitality and wine tastings at the Bonterra vineyard, an organic wine company in Mendocino, California.
She has just hosted 70 wine distributors from New York, talking them through ten of Bonterra's best wines. After a long dinner the New Yorkers head back to their hotels and Stewart heads home – and her home is also a place many would dream of owning.
It's a 700 square foot cabin on a heavily wooded, old ranch up in the hills west of Ukiah, the capital of Mendocino County.
The 5000 acre ranch was subdivided into 250 acre plots back in the 1970s and quickly filled up with "a migration of San Francisco hippies who wanted to go back to the land, live off the land," says Stewart, 56. "I was influenced by that culture wanting to grow my own vegetables and become as self reliant as possible." One of the bye-laws (actually called covenant code restrictions) is that you live organically. "Its not strictly enforced," says Stewart, "but it is adhered to." Other restrictions are: No use of toxic chemicals, No commercial logging, No mining, No hunting. "Most people up here follow them because that's how they want to live," says Stewart. "There is a noise limit also, but sometimes that is difficult to control. If someone is noticed abusing the "codes" a group of neighbors will talk with them and that's usually the end of it."
Living this way, it's easy to be eco. "When you don't have a garbage company and take your own trash in you become more conscious about what you are putting in your garbage."
The house is small, but that makes it easy to heat –a large room downstairs with a wood burning stove, and a bedroom upstairs. Electricity is from solar panels, and water from a well.
%authorad4%
"It's the old mentality of frugality," says Ted Ning, CEO of Lohas, a Boulder, Colorado marketing company specializing in sustainable living and organic health. "My grandparents for example are green – buying just the minimal amount, only what you need, was instilled into them based on their experience with the depression, and you see that now with the oil prices, or moving from Hummers to Hybrids,"
And Stewart does indeed drive a Prius, the new hybrid saloon vehicle from Toyota which runs on electricity when the batteries are charged and switches to gasoline when the battery power runs out. "I go down the hill for about eight miles whenever I leave home and the batteries charge up, which is just perfect. And I pay about half as much on gas," she says.
Stewart is a "bourgeois bohemian" or BoBo says Ning, a new marketing category of consumers willing to pay a higher price for products in line with their values. "Studies have shown they are willing to pay up to 20% more" says Ning.
The Natural Marketing Institute, another eco-marketing organisation says BOBOs are now at least 13% of the overall adult market in the United States.
The segment spans the age groups. At the Greenfield Ranch "there are kids of 30+ now wanting to settle there as well. It's difficult to find a place unless their parents are land owners," says Stewart.
"I love the solitude– I cannot see anybody's home from mine; I'm surrounded by forest and there's really no hunting so there's an abundance of wildlife: raccoons, skunks, bobcats, Mountain Lions, white deer that almost look like goats, which Randolph Hearst brought here on a Noah's Ark kind of deal.
Stewart lives there alone but feels "very safe. My biggest concern is rattlesnakes. I have to be careful where I am stepping. I wear cowboy boots when I'm out working in grassy areas."