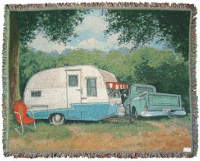 If you are in an RV, Boondocking is the only way to go—it's cheap, eco-friendly, and adventurous. And remember, an RV does not have to be an expensive, purpose-built home on wheels – all you really need is a bed, storage space and preferably a way to cook food and power your cellphone.
What is Boondocking?
It's living off the grid in your RV – usually on a short term basis – not connected to hookups like electricity or water. Much of the time, its free.
Where do people Boondock?

Everywhere. Even parking in your friends or parent's driveway is boondocking. Government land is a popular choice. The Bureau of Land Management (BLM) has areas reserved for this style of camping. Many national forests have zones where disbursed camping is allowed, much of it free. Long Term Visitor Areas (LTVA) do charge a nominal fee so that they can offer services like water, trash collection, and a place to dump your tanks.
It's Cheap!
Frugal RVers take delight in how affordable the boondocking lifestyle can be. If you're like me, you watch your budget when you are RVing. And boondocking on a regular basis sure can be nice to your pocketbook. No rent or Utility bills.
Get Ready
Getting prepared for boondocking can be really simple. Just fill up your propane tank, make sure your coach battery is in good shape, top off your fresh water holding tank and you're set for at least a week. However, if you want to extend your stay, and upgrade your lifestyle a bit, you could do a little more planning and spend some extra cash. Sure, it's a bit of an up front investment, but it can save you money in the long run.
You could add a solar panel or two and let the sun power up your electronics, onboard lights, and small appliances. Need a little extra water than your fresh water holding tank allows? How about increasing the size of your black water tank? There are portable fresh water and waste water tanks or "blue boys" on the market that come in a variety of sizes. It's also a good idea to have more than one coach battery. Speaking of batteries, be sure to stock up on plenty to power your flashlight, book lamp, and other battery-powered gadgets. A little extra planning, and money wisely spent can help ensure you are living in comfort.
It's Eco-friendly!
Folks in regular households are sending gallons of water down their toilet with each flush, boondocking RVers are flushing cups. When you know you only have 40-60 gallons of fresh water in your tank, you tend to become quite conservative with that water. You invent resourceful ways to wash dishes, take showers, and flush toilets because every drop counts. And speaking of being resourceful, it takes much less energy to run an RV household compared to the average household. Since battery power or solar energy is used to run your lights and electronics, you're really not wasting energy there. The lifestyle just lends itself to producing a smaller carbon footprint.
It's Fun!
Boondocking not only saves money and the environment, but it can bring out the adventurer in anyone. It's all about discovery! The path of discovery could lead you to a free, woodsy campground near Sequoia National Park, a bumpy forest road north of Sedona, or an LTVA boasting a hot springs in southern California. There are just so many options available when we know where to look. So just where do we find all of these awesome places? Probably the best resource for finding great boondocking locations is by talking to fellow RVers. They are a wealth of information and can give you a first-hand account of their experiences.