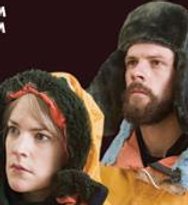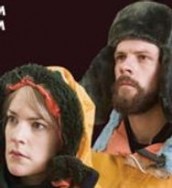 Love in a cold climate Boastful Cate Blanchett said last year that her Sydney Theatre Group would be the world's first off-grid playhouse. She has yet to fulfill her boast, and now a small New Zealand troupe has beaten her to it.
"Heat" is the aptly- named first off-grid theatre production in New Zealand, with a generator, solar panels and windmill placed outside Bats Theatre, Wellington — giving a foretaste of the Antarctic setting inside.
While the Bats Theatre is actually walking the walk, Blanchett spends her time raising sponsorship from the likes of Giorgio Armani – whose fashion shows she attends – how awfully 80s.
Once "Heat" gets underway, the technology is swiftly forgotten as a moving tale of magical realism unfolds in a hut on Cape Crozier, north of Scott Base.
Unlike artists who have visited and been inspired by Antarctica, such as Graham Billing in his 1965 novel Forbush and the Penguins and more recently Gareth Farr and Paul Horan with Terra Incognita, Lynda Chanwai-Earle, who hasn't been to the continent, uses it as a place where her protagonists eventually discover, in the words of a character from Kushner's Angels in America, that it provides "Cold shelter for the shattered. No sorrow here, tears freeze."
Her shattered characters are a husband-and-wife team, both scientists. Stella studies the breeding patterns of emperor penguins and John climate change. Their arrival, unpacking and adjusting to their new home is full of excitement and laughter.
But they cannot escape their past: the death of a child. Grief, says Stella, is hot; it burns. She becomes obsessed with a penguin that is rejected by the group that she is studying. She names him Bob and he slowly infiltrates their lives, causing John to be jealous and Stella overprotective.
Absent la Blanchett, the play is well cast. Aaron Cortesi and Kate Prior miss nothing in the roller-coaster ride of emotions their characters go through, playing the comedy and the tragedy with complete commitment. As Bob, Brian Hotter, who spends a lot of time on his knees and covered in black make- up, is superb — funny, touching, heart-breaking, and not for a second cutesy or Disneyish.