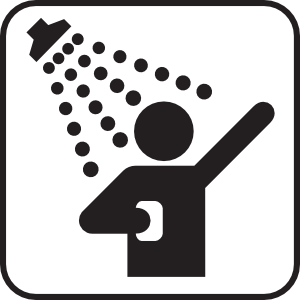 Hygiene while living off-grid, especially if you are living rough and/or just starting out, keeping clean can be one of the challenges. When PB and I first moved to our off-grid home, it was little more than a box on stilts, one room. We had a double sink on the "kitchen wall", but it wasn't hooked up to running water or even to a drain.
We had access to a community well that was a couple of miles away on rough mountain roads, we ended up bartering with our neighbor to use his well. In the beginning, I would walk down the mountain carrying 3 empty one gallon water containers, I'd fill them, then carry them back up the hill to the cabin. That was all the water we had to use for the day, for drinking, cooking and cleaning. We learned how to be very frugal with water.
We did a lot of "spit" baths, that is to say, using a wash cloth, very little soap (too much soap takes too much water to rinse) and just washing the important parts. Eventually PB got the sink drain plumbed so I could at least wash in the sink with sort of running water.
Growing up, my aunt used to say:
"Wash up as far as possible
Wash down as far as possible, and for gosh sakes, don't forget to wash possible."
Of course now we have running hot and cold water, a shower as well as the kitchen sink. But before the shower was built, we used a solar shower, one of those little black bags you fill with water, set out in the sun to heat up, had to be careful not to leave it too long otherwise the water was nearly boiling. That worked pretty well, I must admit though that I really appreciate my walk in shower. :)
I have recently come up with a body cleaner I call my "Pit Wash", it's a mixture of a few easy to get (and cheap) ingredients that clean and refresh AND doesn't need to be rinsed, it's perfect for washing up between showers, something we are still very frugal with, we still "haul" our water, just in larger quantities now.
My Pit Wash consists of Witch Hazel, water and a few drops of liquid body wash, the quantities will be listed below. I use a body wash that has a good scent, even though you can barely detect the scent, it's nice to have something that smells nice, I wet a wash cloth with plain water, I wash my face with the plain water, then I sprinkle about an ounce of the Pit Wash on the wet wash cloth, I clean my arm pits and my lady parts, it could be used all over if necessary, and guys you can wash your guy parts with this too. :) It's good for all over if you wish.
Pit Wash
1/2 bottle of Witch Hazel
2-3 drops of body wash or some other skin safe liquid soap
fill the rest of the bottle with water
I use a regular size bottle of Witch Hazel I believe it's about 16 ounces, if you use a mega-size bottle, you will need to add a few more drops of soap. It will not seem like you are adding enough soap, if you shake it after adding the water and it gets really sudsy, you have too much soap, you can use it with more soap but you will need to rinse the Pit Wash off of your skin, especially on your more sensitive areas. Be sure to label your bottle so everyone will know what is in it.
An optional ingredient could be a few drops of a good smelling essential oil (lavender, lemon, orange, tea tree oil…), again don't go overboard with those, it's better to add less to begin with, then add more if you feel like it's not strong enough, if you add essential oil, be sure to shake the bottle well before each use.
Of course, if you find yourself being irritated by this wash, either back off on the soap or add more water, if you continue being irritated, it may not be for you. You may want to test it out on a less sensitive area if you have sensitive skin (like on your inner arm near the inside of your elbow), you know who you are.
A few days ago, I ran across a half filled container of baby wipes, it had long ago dried out, I was heading out to clean a house for someone, I decided to pour some of the Pit Wash into that container to re-wet the baby wipes, that was a nice thing to have because that house didn't have running water at the time.
This could easily be put into a spray bottle and applied that way, it's something I plan on doing just as soon as I can find another source of good spray bottled, I have purchased ones that didn't last very long, using something cheap is fine as long as it works, but cheap isn't a bargain if it breaks in short order, I seem to have a collection of cheap-broken spray bottles.
Keeping clean, fresh and smelling good is important to your health as well as your well being.