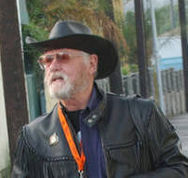 It was always ironic that the actor who played oil tycoon JR in Dallas, himself  lived in an off-grid home in California.  But no longer. Larry Hagman and his wife Maj are about to list their longtime mountaintop home near LA for $11 million.
The 43-acre spread in Ojai was built for the couple in 1992 and has nine-bedrooms, 14 1/2 -bathroom Mediterranean-style estate was designed .
There are separate solar systems providing energy for the main residence, the well and the caretaker's home. When Hagman installed the first system in 2003, his annual electric bill went from $37,000 to $13.
Sitting behind iron gates, the 18,000-square-foot main house has an open floor plan with walls of sliding glass doors, painted murals, an indoor grotto-style spa and a retractable roof over a 40-foot saltwater lap pool in the grand room, which has accommodated parties of up to 200 people. Glass walls on three sides provide unobstructed views from the bed in the master suite. There are Channel Island, mountain and valley vistas.
Hagman, 78, continues his daily diet of eggs, bacon and coffee for breakfast. A Glucerna shake for lunch, and a light dinner of typically either soup and an open-faced ham-and-cheese sandwich, or fish and salad. No alcohol, not after he got his new liver. "Why push it?"
The compound includes a two-bedroom guesthouse, a separate office, an outside pool connected by streams to two ponds, a private helipad and more than 200 avocado trees.
The Hagmans are selling because they are ready to downsize. They own another home in the L.A. area.