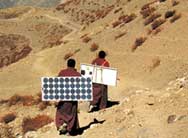 Let there be light New Delhi, Jul. 12 — Around 500 residents of a Rajasthan village now have lighting from solar power, thanks to an initiative by the Masonic Trust here in partnership with renewable energy major Conergy.
All 98 homes, two temples and a school in Dewri Gowda village in Rajasthan's Alwar district now have solar powered lighting, a total of 940 watts.
Funding for the project was raised through a charity golf tournament last November. The initiative's advocate, former India cricket captain Kapil Dev, said: "Businesses and non-governmental organisations can play a key role in sustainable development. This act of commitment, dedication and compassion is both inspiring and also a role model for environmental leadership. We need to do more and I ask more organisations and businesses to follow this example."
Conergy India managing director Rajesh Bhat said: "Till now, more than 13 percent of the 600,000 remote villages in India lack electricity. Like Dewri Gowda, most are located in remote territory, which proves expensive and technologically-challenging for power supplied through a public grid. Off-grid renewable energy products such as solar-powered home and street lighting systems thus serve as affordable and efficient alternatives, while also being environment-friendly."
Venkittu Sundaram, chairman of the Lodge Elysium Masonic Trust and managing director of EPURON India, said: "India's potential for renewable energy projects far exceeds the current installed capacity. Of 144,913 megawatts of energy produced in India, only 8.4 percent comes from renewable sources."
The project is a part of Conergy Renewable Energy Village initiative, supported by India's Ministry of New and Renewable Energy.