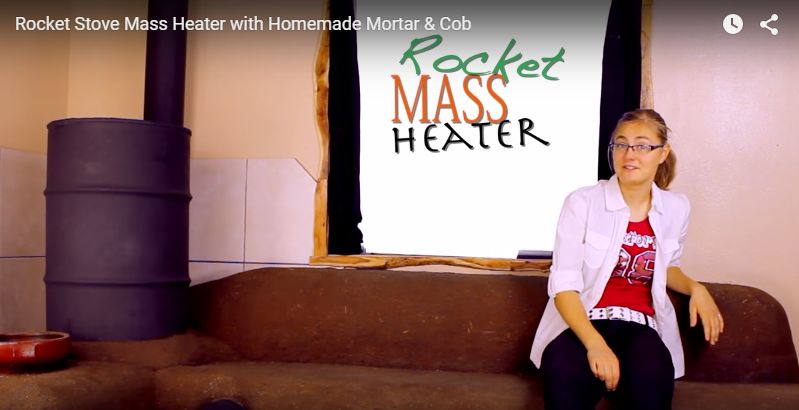 Winter is just around the corner, I'm sitting here tonight, with drops of rain falling on the roof, it's a chilly 55 degrees F outside, not much warmer inside, it's not cold enough for the woodstove yet, though we have been enjoying the fireplace PB is building on the semi-enclosed deck.
This yet again stirred my interest in thermal mass rocket stove heaters, you know the one I'm talking about I'm sure, the one built into the cob bench, the idea is using a rocket stove for efficient burning, using less wood, heating a thermal mass (the cob bench)… I have little hope of having one in our current living space, mainly because of the weight, we "live" on the second floor of the SkyCastle. BUT there is a ground floor level that will someday be finished, becoming a bedroom, that space is perfect for a thermal mass rocket stove heater, I'm just biding my time until PB begins to finish that part of the house.
Rocket Mass Heaters

Lessons from Our Rocket Mass Heater: This book is bursting with photos, tips and resources all from our own build! A companion guide to the experts manuals you'll get a personal look at a real build.
Meanwhile, I will watch and learn from other folk who build and use these, I REALLY appreciate the ones who post follow up videos or blogs showing their experiences over the years, the good and the bad. While looking for such a video, I found the most adorable homesteading family, a mom, dad and 4 kids. They moved from the city to the country, jumping in with both feet, I have enjoyed watching their videos, especially the ones from the kids, they are truly learning here and sharing this experience with the rest of us.
Here are the videos about cob building and thermal mass rocket heaters. Links to their YouTube and webpage to follow.
This first video shows a really interesting floor treatment as well as a thermal mass rocket stove heater

https://youtu.be/Yei0a6OeRbo
This shows the thermal mass rocket stove heater with cob bench.

https://youtu.be/NYJyxptclos
This shows the thermal mass rocket stove heater some 3 years later, an improvement they made and how well it is doing.

https://youtu.be/nG9-hyg7r4k
MyLittleHomestead YouTube page
MyLittleHomestead webpage