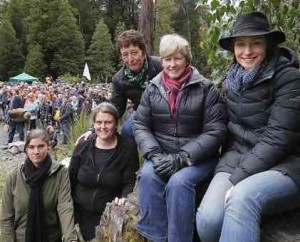 Home and Away's Lisa Gormley is in the middle of building an off-the-grid eco cabin in the Tasmanian rainforest. She is looking forward to spending more time with her family, including her parents who live on a 20ha farm.
The 30-year-old moved to Tasmania with her parents when she was 12, and recently said she wanted to spend time with her family and travel. Not one to shy away from new challenges, Gormley was one of hundreds of people who gathered in Tasmania's Upper Florentine Valley in April to rally against the Federal Government's attempt to reopen some World Heritage-listed forests to logging.
One of Australia's most popular stars she revealed she would be open to returning to her soapie roots, years after shocking fans with her decision to leave.
Dan Ewing and Lisa Gormley, who played on-screen couple Heath and Bianca, recently reunited on the Home And Away set to film An Eye For An Eye – a spin-off. And the walk down memory lane left both pining for the good old days. "I'd definitely be open to a discussion about coming back, I have to say," Ewing admits.
"If the (right) storyline was there, I would. I wouldn't want to play the same old Heath for another three years, though – I'd want it to be fresh and him to have evolved." At least part of his willingness to return to the role of resident heavily inked bad boy Heath comes down to Archie, his one-year-old son.
Ewing and his wife Marni have been mostly raising their bundle of joy in Los Angeles. It's a great city, especially for an ambitious actor, but he says nowhere compares to home.
"Having a kid really changes your perspective," he admits. "The quality of life here in Australia is unique – you can't find it elsewhere in the world. There are so many opportunities – we're so lucky.
"But, most of all, I think it's a dad thing … I'm looking at life for my child. And Marni really misses her family. Skype and FaceTime are great but it can't beat the joy of seeing your little boy run up to grandma for a big hug." LA will always be there, too – and technology means an actor doesn't have to physically live Stateside these days to chase the big time, he says.
Since leaving the show, Gormley has spent a few years travelling, teaching overseas and starring in various stage productions. And the nature-loving performer is in the middle of building an off-the-grid eco cabin in the Tasmanian rainforest.
Gormley is also open to returning to the show that launched her career – just not yet. "I would, but maybe not for another little while because I've still got things I want to try," she says. "I've done a lot of things that were on my list – I'm slowly ticking them off." Despite the heavy storyline of the Presto special – which continues on from Home And Away's cliffhanger season finale on Wednesday – she had a ball "getting the band back together".
"It was just gorgeous," she beams. "I love this show. It's not like I left because I didn't. And, when I did, I suddenly lost 50 people from my life, which was sad. Coming back to play with them again was great." Bonnie Sveen is a central part of the plot for the spin-off, after her character Ricky's baby Casey is kidnapped. Adding to that, everyone is left reeling by Ash's (George Mason) revelation.
She relished the chance to sink her teeth into a meaty storyline and be part of a history-making experiment.
"This is a first for the show – they've never done anything like it before," Sveen says.
"It feels different, too – they're shooting it differently. I don't know much about the technology, I'm sorry, but the cameramen played with filters and angles and that sort of thing.
"It gives it a slightly different look and feel. That made it an exciting prospect." Ricky's story arc in recent years has been a turbulent one but Sveen thinks there's a lot of life left in it.
"I think there's a while to go in the journey and I'm enjoying it," she says. "I'm not in any hurry to move on at all."HOME AND AWAY FINALE, WEDNESDAY, 7PM, SEVEN. AN EYE FOR AN EYE WILL BE AVAILABLE ON PRESTO IMMEDIATELY AFTER, AT 8.30PM