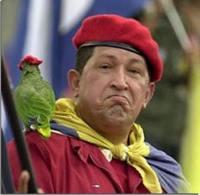 At the same time as the Venezuela government introduces measures to ration electricity, President Hugo Chavez accuses the US government of deliberately engineering the Haitian earthquake.  But the sight of U.S. Marines on Venezuelan TV, risking their lives to save the poorest Haitians, reminds Venezuelans that those Marines could help save them.
It might set Venezuelans to questioning just why Chavez remains their president.  If it does, the irony would be of U.S. Marines taking Chavez down — without even firing a shot.
Chavez told Spanish newspaper ABC that the earthquake was the product of a "tectonic weapon" launched by the U.S. Navy in a test-run for the U.S.' ultimate target: Iran. As lunatic as it sounds, the Venezuelan dictator knows what he's doing: Haitians are vulnerable now and seeking to make sense of the catastrophe. Chavez's words try to tap into an existing Caribbean cultural undercurrent of paranoia about CIA influence to discredit U.S. help.
That's important to Chavez because U.S. aid is building vast reservoirs of goodwill in Haiti and beyond and it will come at the expense of his own. Amid a crippling drought, Venezuelans cannot understand why the oil-rich country's businesses and shopping malls have been told to operate on half power. Electricity demand is more than 16,500 MW, far higher than what is generated. Authorities are warning of forced power cuts and rate hikes if the measures are not followed.
A decree published on Christmas Eve states that commercial centers may operate from 11:00 am to 9:00 pm on the electricity grid, but beyond that establishments would have to operate off-grid, using their own generators. Venezuela is flush with oil–the country's primary export–and natural gas, but relies mainly on hydroelectric generation to meet domestic energy demand.
The power crunch is expected to have an impact on a variety of businesses, including cinemas, casinos and bingo halls. Experts say the power sector requires US$18 billion in investment through 2014. In 2009 there were four nationwide blackouts, with daily failures common in several cities. For Chavez, the U.S. aid contrasts sharply with his own promises to Haiti he never delivered on. The sight of U.S. troops delivering aid swiftly exposes him as a blowhard who runs his mouth and breaks his word. In March 2007, Chavez paraded around Port-au-Prince as crowds cheered, promising Haiti a $100 billion development fund.
He vowed to provide $57 billion to improve the country's only airport, to build Haiti a new refinery and to construct four new power plants. He even promised a Hollywood movie depicting Haitian founding father Toussaint L'Ouverture, disbursing $9 million of a promised $18 million to actor Danny Glover for the project. To date, not of these promises has come to pass.  The film is inpre-production,two years later and Haiti still has the same four battered electrical plants it's had for years. It has seven inactive plants and new off-grid plants built by U.S. companies such as APR Energy for operation in remote areas. (The Americans got those plants up in 30 days, by the way.)
The broken promises to Haiti present a challenge to Chavez at home. His attempt to buy influence in Haiti through aid (much of it, by the way, to political "activists" in Cite Soleil where little quake damage occurred) is unpopular at home. Even with $800 billion in oil earnings, Chavez's mismanagement of Venezuela has left it with food shortages as well as electricity rationing. But the continuous sight of U.S. Marines on Venezuelan television, risking their lives to save the poorest Haitians, will remind Venezuelans that those Marines could have saved them in Vargas, where Chavez shut out U.S. help and 50,000 died.