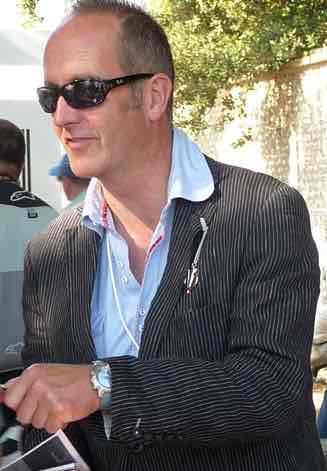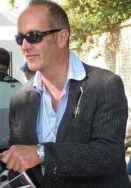 Kevin McCloud, presenter of Channel 4 TV's Grand Designs series, fronted money-raising for an eco-property developer, and then resigned as a director 18 months before the company went bust this week.
The picture is still unclear because there is a web of interlocked shareholdings, but many small investors have lost money and McCloud and his colleagues are continuing to trade through different vehicles.
Both building projects in Oxford and Winchester are controlled by two subsidiary companies – HAB at Lovedon Fields Limited and Hab at The Acre Limited – neither of which are part of the proposed liquidation.
'The directors of these entities continue to explore options to enable these developments to be completed,' the spokesperson continued.
'HAB Housing Limited is also unaffected by the liquidation proceedings.'
Mr McCloud is a significant shareholder in the HAB network of companies, remaining a director of HAB Housing and owning 20 per cent of HAB Land's parent company, BAH Restructuring.
TV star and developer McCloud had already come under fire from a city councillor in Winchester where his project ran into difficulties almost a year ago, as community facilities promised as part of a development are yet to be completed.
That comes as investors in the Happiness Architecture Beauty (HAB) housing venture, launched by the Grand Designs host, voiced frustration at warnings they could lose up to 97% of their cash.
Happiness Architecture Beauty
HAB Land Limited was founded in 2014 to acquire development land for building projects at sites in Oxford and Winchester.
HAB Land Finance plc was subsequently incorporated as a wholly owned subsidiary of the company in 2016, in order to raise finance to fund the real estate activities of HAB Land through Mini Bond Instruments.
*** Did you invest in HAB Land, Hab Housing, or a related company? Do you live in a HAB development? Email news@off-grid.net, call 07971543703***
The first reports of the possible demise of the McCloud empire came from the Hampshire Chronicle, a local paper reporting on broken promises at the Lovedon Fields development in Kings Worthy seven months ago, and from local ward councillor Jackie Porter, cabinet member for built environment and wellbeing at Winchester City Council, who said works were going "very, very slowly," and were "nowhere near finished."
"We want to see this site completed. We chose it because it had great public facilities. The residents of Kings Worthy are being let down.
"[Mr McCloud] had good intentions but it was naive. This project was much more complicated than it was meant to be."
The developer HAB Housing agreed – as part of the planning approval – its location in Eversley Park would double in size. The land would then be given to Kings Worthy Parish Council to protect it from future development.
Chaos in Winchester
The site, off Lovedon Lane in Kings Worthy, was given planning approval in September 2015, and the development was opened in Spring 2017 by then-mayor Cllr Jane Rutter and Mr McCloud.
One resident, who did not wish to be named, said: " we kind of bought into Kevin McCloud (in 2017).
"Now I've got no interest in seeing him here. He hasn't been here, he's been reluctant to come here and listen to our concerns, he was very happy to take our money.
"The communication has been really poor."
Last month residents in million-pound houses in a development built by HAB Housing complained that two years after it was due to be finished the site was still covered in scaffolding with unfinished pavements and no street lighting.
The Winchester location still had a building site with temporary toilets where the development promised a wildflower meadow and children's play area.
One woman complained she was informed just last week her bathroom floor would have to be ripped up and leaky pipes relaid.
In response, a spokesman for HAB Housing said: "With regard to our Lovedon Fields development, understandably, we have been prioritising works on the houses of our homebuyers which we have been diligently undertaking.
"Our intended plan has been to commence work on the community assets in Autumn which continues to be the case.
"Throughout this process, we have been in continual dialogue with our homebuyers, the parish and city councils, and other stakeholders with frequent updates on progress and planned activities."
Speaking after the Chronicle first broke the news in February, Mr McCloud's firm issued a statement saying a "Brexit-fuelled construction crisis" had hit the industry, causing soaring construction costs and a shortage of skilled workers.
Mr McCloud also issued a personal apology to the residents. He said: "As an SME (small and medium-sized enterprise) housebuilder, we've been hit hard by rocketing costs and a construction skills crisis – both of which are being exacerbated by Brexit uncertainty and the fall in the pound.
"Of course Brexit is absolutely no excuse for the poor service residents have received and I am close to striking a deal to bring new partners whose expertise and financial backing will enable HAB to deliver something we can be proud of.
McCloud apologised
"I am hopeful of being able to make that announcement very shortly."
Mr McCloud added: "I'm personally very sorry for the delays and problems caused.
"Things haven't been done quickly enough. I share our residents' frustrations and am putting a plan in place to fix them."
Home » News » Land & New Homes » Kevin McCloud's grand building plans leave investors facing huge losses
Previous Next
LAND & NEW HOMES
Kevin McCloud's grand building plans leave investors facing huge losses
Two companies that form a key part of the building firm founded by the TV presenter in 2007 have been put into liquidation by their backers.
Nigel Lewis
18th October 2019 0 1,120 Views
kevin mccloud
Two high-profile companies founded by TV presenter Kevin McCloud have collapsed after failing to persuade backers to keep them going.
KPMG has been appointed to oversee the liquidation of HAB Land and its subsidiary HAB Land Finance, which form a key part of McCloud's business called Happiness Architecture Beauty (HAB).
The 60-year old Grand Designs presenter set it up 12 years ago to challenge the way the UK's volume house builders construct 'identikit' homes.
The HAB firms appear to have failed in part because of the way they were financed. Much of the cash needed to construct homes at HAB's five sites across Oxfordshire, Wiltshire, Winchester, Bristol and Hampshire was sourced from individual investors.
£2.7 MILLION
£2.4 million was raised in 2017 this way and investors were offered returns of 8% over five years, but the difficulty and costs of building eco-homes, and a weakening property market, mean investors are now likely to receive, at best, 26p for every £1 they put into the firm.
Representatives of the two HAB companies had attempted to buy the venture more time but, despite the expected heavy losses, mini bondholders voted on Tuesday to put the firms into liquidation.
Last month, it was reported that buyers of the bonds sold to investors in 2017 for HAB – launched by Mr McCloud in 2007 – were told in a letter that an independent review of finances found they face significant losses.
Mr McCloud resigned as a director of HAB Land Ltd on February 16 2018.
The letter to investors says bondholders can expect a return of between "26 pence and 3 pence for every £1 of bond monies invested", after the completion of two projects.
In fact it appears they might get zero pence in the pound.