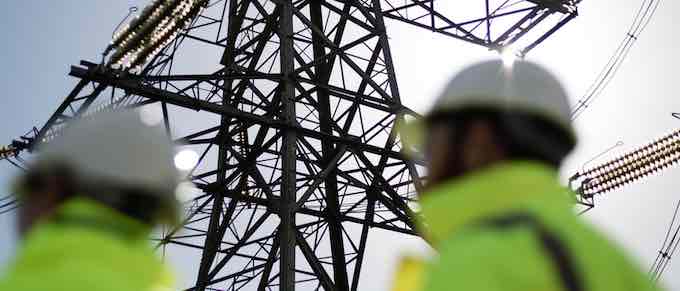 New renewable energy projects in Britain are facing a 10-YEAR wait to get their power onto the country's national grid.
Incompetence at the top levels of National grid PLC and OFGEM, the state regulator, has led tot he bottleneck. As a result promises made by Britain at COP26 cannot be met and net zero targets are at risk due to delays "caused by poor planning and investment in infrastructure," according to Bloomberg.
The UK recently set out ambitious new goals to more than double existing renewable generation capacity, adding 50 gigawatts of offshore wind by 2030, 70GW of solar by 2035 and 24GW of nuclear by 2050.
But developers say they are being told that they will have to wait six to 10 years to connect to the regional distribution networks because of constraints on National Grid's network.
"The majority of large developers are now seeing construction-ready projects being delayed as a result of long queues and excessive charges to get access to the transmission system," said Catherine Cleary, specialist engineer at consultancy Roadnight Taylor, which advises companies including British Gas owner Centrica and solar developer Lightsource BP on their grid connections.
"Although there are proposals for new infrastructure, the lengthy timelines for this threaten to derail the net zero targets."
The issue of who pays for improvements to the electricity distribution network is crucial given that it is privatised, with the FTSE 100 listed National Grid providing the bulk of the central transmission network across Great Britain and supplying the six regional monopolies whose pylons, poles, wires and cables carry electricity to end users.
The monopolies' investments and how much they charge consumers are regulated via price controls set by watchdog Ofgem, which has been under pressure to get tough after being accused of allowing the companies to make excess profits. The regional distributors earn their revenues from a surcharge on customer bills, with up to a fifth of the typical household energy bill — or roughly £371 a year — going towards the cost of the distribution network.
National Grid says it has historically had 40-50 applications for connections a year but that this has risen to about 400 as renewables suppliers have proliferated. This is in addition to significant volumes of applications coming via the six regional distributors.
Roisin Quinn, director of customer connections at National Grid, said it was working with Ofgem and the industry to address the long queues, including by changing processes so that developers can no longer take network capacity before they have planning permission or have even started construction.
The company is proposing to upgrade the network on a project-by-project basis, building bigger substations and more overhead lines. "We are taking action at pace, along with the wider industry, to speed up the process for customers based in areas with longer waiting times," she said.
However, the industry is concerned over the cost of improvements to the network, which are needed to shift from a system designed to serve large coal-powered plants close to urban centres to more dispersed renewables developments such as solar and wind farms.
Burdening smaller-scale projects with these transmission upgrade costs, which can be in the region of £12mn per substation, renders many projects unviable, according to Roadnight Taylor. It is also a postcode lottery as to how much they are charged.
Ofgem has looked at connection charges across the industry but was "notably silent" on the issue of excessive charges for transmission upgrades, said Cleary.
The Energy Network Association, which represents operators, said Ofgem needed to move from a reactionary process to mandating "anticipatory, strategic investment".
If renewable energy developers do not pay the costs of upgrades they could be passed to consumers through bills or taxes, creating a difficult balancing act for the regulator, which is keen to keep household costs down while facilitating the transition to net zero.
Renewable energy developers are adamant that delaying the shift to low-carbon energy will ultimately increase customer bills.
Jake Dunn, commercial director at Vattenfall, the Swedish state-owned power group, said the delays would "impact the transition to green energy and affect consumers as they will be forced to pay higher prices for longer".
Patrick Smart, UK and Ireland energy networks director at renewables provider RES, said it had several solar projects ready to connect this year but had been given connection dates of 2028 or 2030.
"Solar and onshore wind are the cheapest forms of new electricity generation and yet projects are being delayed due to a lack of long-term planning and investment in electricity infrastructure," he said. The current system was "not fit for purpose", he added, and needed "to change — and fast — if we are to lower consumer bills and deliver net zero".
Developers are also calling on the government to speed up planning procedures.
"The industry is ready to deliver at the rate the government is targeting, but a lack of joined-up thinking in the process has meant stakeholders are moving at different speeds," said Tara Reale, head of business development for UK and Ireland at Lightsource BP.
"The government should review the manner in which grid connections are allocated and reassess how the necessary grid upgrades could be programmed more quickly."