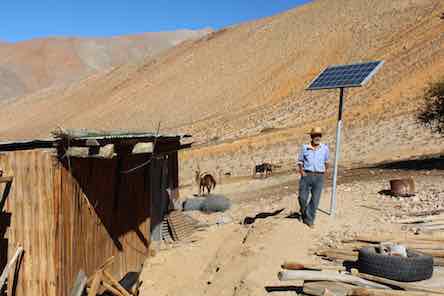 The cost of solar equipment is declining at ever-steeper rates, threatening a meltdown in Utility companies share prices and catalysing new projects and driving growth in developing countries.
That's among the key findings from this year's Climatescope, an analysis of 58 emerging markets in Africa, Asia, Latin America and the Caribbean.  Conducted by the Multilateral Investment Fund of the Inter-American Development Bank and Bloomberg New Energy Finance, it reports investment in utility-scale solar in the Climatescope nations spiked 43 per cent to $71.8bn in 2015.  The countries covered include China, India, Egypt, Pakistan, Brazil, Chile, Mexico, Kenya, Tanzania and South Africa.
The report stresses that the 58 countries "are not waiting to get started on adding renewable capacity – between them, they added 69.8 GW of new wind, solar, geothermal, and other renewable power generating capacity in 2015 – the same as total installed capacity in Australia today".
China accounted for the majority of activity in Climatescope countries, but smaller nations also played important roles. By comparison, wealthier OECD countries built 59.2 GW last year. Climatescope also found that cheap solar, innovative business models and a new breed of entrepreneurs are revolutionizing how energy access issues are addressed in least developed nations.
"New players focused on off-grid or mini-grid solutions are challenging the assumption that only an expanded hub-and-spoke power grid can meet the needs of the world's 1.2bn with inadequate access to power. A slew of these start-ups are privately-funded and between them had raised over $450m cumulatively through year-2015."
And the report highlights how private investors, lenders, and development finance institutions in OECD countries accounted for nearly half of all capital to the Climatescope countries, with the exception of China, where virtually all capital was provided locally.
This is up from the roughly one third of capital provided in 2012. But the report also notes that some Climatescope countries with the highest rates of clean energy penetration are beginning to encounter integration challenges. "Some have seen projects completed before sufficient transmission could be built. Others have not prioritized clean electrons from wind or solar projects in their grids over those from coal-fired plants."
But the writing is on the wall for fossil fuel companies (and share prices) – with the report noting that "tenders held for power-delivery contracts have highlighted that photovoltaics can now compete against and beat fossil-fuelled projects on price in some nations".