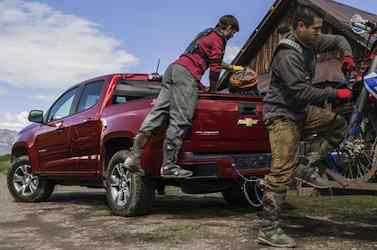 Getting away from it all – really away – is harder than most would like to think.
I went to an off-grid festival last month at Thoulestone Park, and all I could hear was the hum of the nearby freeway. Escaping completely from roads while hauling all the gear you will need requires the right auto. Too big and you will have trouble on mountain tracks.
Here's my pick of the new off-roaders for any action excursion.
LITTLE DEVIL – THE JEEP RENEGADE

* Jeep's latest vehicle may be small, but don't call it cute.
In Trailhawk guise, this squat five-door has all the off-roading goods of its big brothers-a jacked-up suspension; bigger tires; a beefed-up four-wheel-drive system; bright red tow hooks to attach a winch cable-with a compact size that can fit your tent and pack, not to mention thread you into those Impossible-to-reach backcountry campsites.
It also comes with a removable double-paned sunroof for letting the light (and dust, and mud) in,
BASE PRICE Under $20,000 (est.)
BASE ENGINE: 1.4-liter turbocharged 4-cylinder, 160 hp
OPTIONAL ENGINE: 2.4-liter 4-cylinder, 184 hp
CARGO CAPACITY; 50.8 cubic feet
MOUNTAIN TAMER – THE CHEVROLET COLORADO

* In recent years, full-size pickups have ballooned into ridiculous, unwieldy behemoths. Not so with the Colorado, Chevrolet's latest version of what used to be called a "compact" truck.
The Colorado can carry bikes or kayaks or canoes, and can even brave the REI parking lot without executing a 15-point turn. And its incredible value.
Next year, the truck will come with an efficient turbo-diesel engine, raising its compelling outlier status to "undeniable,"
BASE PRICE: $20,120
BASE ENGINE: 2.5-liter 4-cylinder, 200 hp
OPTIONAL ENGINE: 3.6-liter V-6,305 hp
BED LENGTH: 6'1″ (long box) or 5'3″ (short box)
BOAT PULLER – THE GMC YUKON XL

* Let's say you're towing something large-like a boat, an Airstream, or a pair of thoroughbred horses. Or all three. Then there's no substitute for the nine-passenger GMC Yukon XL, or the potent pulling capability of its honking V-8.
And with optional power-operated second-and third-row seats, a push of a button (or two) creates a cavernous cargo hold for your gear, crew, family, and jockeys.
BASE PRICE: $46,335
BASE ENGINE: 5.3-liter V8,355 hp
OPTIONAL ENGINE: 6.2-liter V8,420 hp
CARGO CAPACITY: 94.7 cubic feet
THE DOG – SUBARU OUTBACK [??]

* Subaru is known mainly for its quirky-yet-powerful all-wheel-drive Outback wagons, beloved by winter sports fanatics – until they break down. Avoid this one – even if the salesman gives you $5000 cashback.
This all-new version has more room for passengers (even more room for their snowboards), increased fuel economy, and upgraded interior materials and safety features, all wrapped in a handsome shape and at a surprisingly affordable price. But be careful where you break down – the network of dealers will it you with eye-watering parts bills.
BASE PRICE $24,895
BASE ENGINE: 2.5-liter 4-cylinder, 175 hp
OPTIONAL ENGINE: 3.6-liter 6-cylinder, 256 hp
CARGO CAPACITY: 73.3 cubic feet