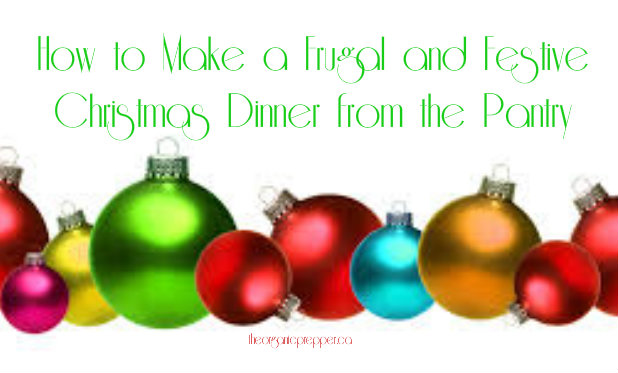 Aside from the gifts under the tree, one of the big expenses of the holidays is the food.  Nearly everyone finds that their grocery bill is up this time of year.  You're hosting parties, putting together a no-holds-barred Christmas morning breakfast, and making a gigantic feast for friends and family.
Stop!  You don't have to go broke to enjoy the holidays!  It doesn't matter what the neighbors are putting on their table this year.  Particularly if the money is stretched thin, there are lots of ways to make your dinner frugal, but still festive.
One way to keep your food  bill under control this year is to focus on treats that you can make right from your pantry.  If you've been following the stockpile principle, then the food in your pantry was purchased at the lowest prices available. Because of this, you can focus on purchasing only a few specialty items, like a ham or turkey, and enjoy delicious yet thrifty treats for the rest of the holiday season.
Don't feel obligated to invest in out-of-season delicacies like fresh berries and asparagus in December!  Focus on the produce that is in season, and supplement this with canned and frozen fruits and vegetables. Make the presentation lovely, with fancy toothpicks in the appetizers and your nicest china.
Another option is a tradition of the non-traditional.  My daughters used to get tired of the 4 turkey dinners every Christmas so we began to do something different at our house.  Every year, we picked a different type of food and made our dinner totally different.  We had Greek food, Mexican fiestas, and Italian dinners.  Many times, these types of dinners can be put together for far less money than the traditional turkey, ham, and fixings.
Following are some ideas for homemade goodies that will make your guests feel well-fed and pampered, without emptying your pockets. You'll discover that many of the ingredients already reside in your pantry, or are standard groceries that will be in your fridge, like eggs and cheese. Links to the recipes are embedded – if the name of the item is underlined, just click the name and it will open up a new window with the recipe!
Appetizers and Party Food
Yogurt cheese seasoned with herbs
Pickle tray with a variety of homemade pickles
Homemade yogurt mixed with herbs to make a dip for veggies
Breadsticks with marinara sauce
Homemade pizza dough (form these into mini-pizzas)
Mexican bean dip (I cook the bean from scratch the day before, and use freeze-dried cilantro instead of fresh)
Creamy potato quiche (adapt this to muffin tins for cute little mini-quiches)
Holiday dinner recipes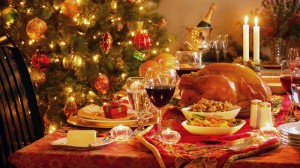 Serve these alongside your turkey or ham.  Also remember that with the addition of bacon or a topping of breadcrumbs and cheese, nearly any vegetable that you have canned or frozen becomes a little bit fancier! Don't forget simple yet delicious foods like mashed potatoes and salads.
Pasta with sunflower seed pesto
Desserts
Merlot pears over ice cream
Oatmeal bar cookies with homemade jam
Christmas cookies from the pantry
Also check out this full holiday menu HERE – many of these items can be adapted to use pantry-based ingredients.
The most important ingredient
If you can't afford the fanciest of dinners this year, don't despair.  Roast a chicken instead of a turkey, or make some homemade stuffing baked with drumsticks.  Don't focus so much on the finery of the season – focus on the reason.
The most important element of your holiday dinner is sharing time with the ones you love. Celebrate the peace and beauty of the day.
https://www.theorganicprepper.ca/how-to-make-a-frugal-and-festive-christmas-dinner-from-the-pantry-12152013
About the author:
Please feel free to share any information from this site in part or in full, giving credit to the author and including a link to this website and the following bio.
Daisy Luther is a freelance writer and editor.  Her website, The Organic Prepper, offers information on healthy prepping, including premium nutritional choices, general wellness and non-tech solutions. You can follow Daisy on Facebook and Twitter, and you can email her at daisy@theorganicprepper.ca