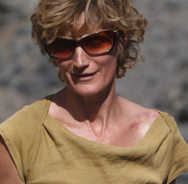 A former soft porn writer and her film director husband have developed "a passion for living off-grid after three years in the middle of the African desert," reports The Daily Express.
British-born film director Matt Aeberhard and his wife Melanie Finn spent three years living in a stone house formerly occupied by missionaries on a hilltop in the Tanzanian wilderness to make Disneynature's first and documentary about flamingos,Crimson Wing.

"We heard about the house when I went to the area in 2001 and met Matt, " says Melanie, who wrote Crimson Wing
, narrated by Mariella Frostrup. "We could see the tin roof glinting in the distance. We heard it was inhabited by a crazy missionary who had a howitzer, which he used to scare off Somali bandits."
When it came to finding a base camp for the film a few years later the round stone building proved the perfect place close to Lake Natron, flamingo-land.

"The house was derelict and had been taken over by a game hunting company, " says Melanie. "It was in the middle of nowhere seven hours from the nearest town. It was just a shell full of hundreds of sparrows when we arrived. We built two sleeping cottages outside, erected some solar panels, installed massive rain buckets and bathed in the hot springs at the bottom of the hill. It was magical."
The hunting firm was happy to let Matt, Melanie and a cameraman live there as a deterrent to ward off poachers who would come looking for zebra and wildebeest. "There was just the three of us. We had stone single-room dwellings with open walls, a bed and mosquito net. We had a freezer and fridge, which we ran off the solar panels and access to the internet via satellite.
"We had fresh water, which we collected in the rainy season, and hot water from the springs. It was wonderful living off-grid."
Their mission was to make a film about the life cycle of a colony of crimson-winged flamingos on Lake Natron. Melanie was born in Kenya and spent the first 11 years of her life in Nairobi so was no stranger to African life. "We had monkeys in the garden and a huge python, which ate all the local pets, " she recalls."
She then moved to America becoming a staff writer on the hit show the Red Shoe Diaries before returning to Kenya in 2000 to write a novel, which was long-listed for the prestigious Orange Award
"Our life in our stone house in Tanzania has definitely affected how we live now, " says Melanie, speaking from her and Matt's adobe mountain home in New Mexico where they live with their twin baby daughters.
"I'm still appreciative of how I can just turn on a tap and water comes out and am very conscious of turning off the computer and lights."
Matt and Melanie were a fascination for the African tribes living around Lake Natron. "We introduced the local Masai to ice, " Melanie says. "They thought it felt hot and would keep coming up to our house for cold water. Most of them had never seen a Tarmac road before either, let alone an electric light. Our house was like a theme park to them.
"The landscape was out of this world but apart from a hovercraft, which we used to film on the lake, we had to lug our heavy camera equipment up and down salt flats and volcanoes ourselves. Our hot springs became a wonderful place for healing and calm relief.
Melanie adds: "The temperature in north Tanzania is a steady 36C to 40C all-year round so as we didn't have air conditioning it was very difficult to keep cool. However, we loved it so much we stayed on so Mike could work with the Tanzanian government on establishing a conservation programme to protect the lake and I founded the East Lake Natron Health Project with the local community, which had nothing more but my first aid kit when I arrived.
"I was always aware of conserving energy and have continued to live like that today in our house in America, which is in a similar landscape to Tanzania with wonderful views.
"I can't wait to take our children to Lake Natron but I have to say I do prefer turning on a hot and cold tap rather than traipsing down a hill to fill barrels."
Crimson Wing [Blu-ray]

: Mystery Of The Flamingos is available on Disney Blu-ray.