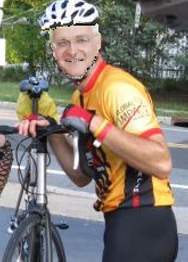 Ireland's eco-minister Dublin – Political chaos of the most creative kind in Eire, where the ruling coalition is being kept in power by the Green Party. The country, one of the worst hit by the credit crunch, is in the midst of a fullscale. 1930s-style economic collapse.
Now state-run Anglo Irish Bank could become a symbol of a new Irish society by transforming into a low-cost green bank, it was claimed today.
The radical plan would see the nationalised lender throw off its close ties with property developers to offer cheaper mortgages for eco-friendly homes as part of the price for Green Party support.
John Gormley, Environment Minister and Green Party leader, backed the proposal from research body the Comhar Sustainable Development Council claiming it would signal a shift in attitudes.
"Interesting to see you wanted to turn Anglo Irish Bank from greed to green," he said.
"I think that would be welcomed by most right thinking people, and if ever there could be a symbol of the turning point in Irish society, that would be it."
Comhar SDC also called for the Government to spend an extra 3 billion euro on environmental measures to help boost jobs and slash CO2 emissions.
Its Green New Deal said Anglo Irish Bank, which was nationalised in January, should be transformed to provide green mortgages to people wanting to build energy efficient houses.
Green loans and savings accounts for those wanting to invest in environmental projects would also be offered.
Eoin McLoughlin, report author, said: "Green mortgages is something that has been undertaken in other countries.
"Basically you get a more favourable interest rate if you want to take out a loan and use it for putting in place green measures in your house."
Other key proposals in the plan include:
:: Setting up a national decarbonisation fund.
:: Boosting investment to improving the energy efficiency of houses, transforming the national grid to allow for more green electricity, and train workers in green technologies.
Mr Gormley said there were many favourable proposals in the ambitious plan.
"They would have to be looked at in detail by the Department of Finance and costed," the minister said.
"Any policy has to be scrutinised in great detail. In principal I think some of these ideas are one that would find favour, but clearly they have to be subject to greater financial scrutiny."
Comhar SDC said the Government should increase its spending on green measures from 0.37% of Gross Domestic Product (700 million euro) to 2% of GDP (3.7 billion euro) over two to three years.
Chairperson Professor Frank Convery said he hoped the proposals would appear in future programmes for Government.