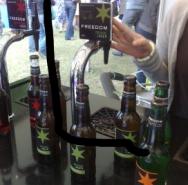 Freedom: Secret is in the water FREEDOM BEER, which was kind enough to provide 50 cases of its amber nectar for the launch last year of "How to live Off-Grid" by Nick Rosen, gets its key ingredient from an off-grid source. The entire water supply at the Midlands base of the organic beer company is now from a local underground lake.
And the couple who took over the brewery earlier this year are celebrating after being 'highly commended' in a top industry awards ceremony.
Susan and Edward Mayman officially relaunched the brand at the end of August.
The accolade, issued by the Soil Association as part of the Organic Food Awards 2008, is the latest good news for 27-year-old Mrs Mayman, who left London and a career in the diamond industry with her 32-year-old husband, who worked in IT sales, to take over the business.
She said: "The Soil Association is the main governing body which controls organic produce in the UK, so to receive this recognition from them is absolutely fantastic.
"Our category was for beers and ciders, and we were the highest placed lager, which we're absolutely thrilled about."
The couple, who are currently expecting a baby, said organic alcohol is believed to cause fewer hangovers, as it contains less toxins than mass-produced beer.
%authorad4%
Their brands are also certified by the vegan society, as they are filtered through seaweed extracts and not fish bladders, as commonly used by major brewers.
And all beers are made from water taken from an underground lake beneath the brewery, which provides a sustainable off-grid supply that requires no chemical treatment prior to brewing.
Other recent developments at the brewery include gaining Soil Association approval, moving all production and distribution back to Staffordshire, and the purchasing of a new bottling and labelling machine, to improve the overall finish of the packaged lager
Freedom has also launched a new beer – Freedom Organic Dark Lager – a cross between a lager and an ale, but served cold.
The Maymans are dead certs for mention in future honours list, a la Bilmoria.