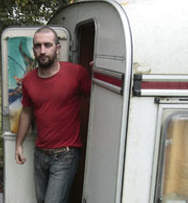 A UK green weekend in Nottingham will hear a keynote speech this evening from Mark Boyle, who has been living without money for more than a year.
His talk is part of a weekend of environmental events in Nottingham at the Art Organisation, Station Street, as part of the Space For Life: Big Green Weekend event.
Boyle, who founded the Freeconomy movement, will be at the Art Organisation for the whole of the event, on Saturday, February 27 and Sunday, February 28.
Boyle will present his talk on Saturday evening. It will be followed by a question and answer session and explanation of how he got a free caravan through the Freecycle website, parked it up at an organic farm where he was volunteering and kitted it out to be off-grid.
The event will include displays, speakers, skill shares, a free shop, circus fun, green crafts, a bring and share banquet and live music.
It is being held jointly by the Freeconomy, Land Roots and Transition movements.
The event will be preceded by an open submission exhibition at the Art Organisation, which is an independently-run gallery. The exhibition will be on the themes of environment, transition, land and sharing, and will run from February 14 to 28.