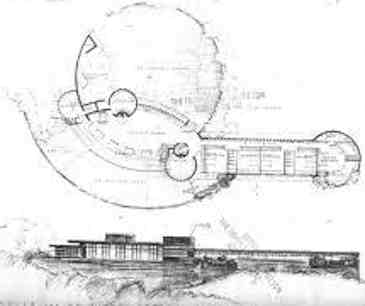 Plans to create a low-lying zero-impact, off-grid villa 
originally designed for a Californian hillside amidst the rolling fields of Wraxall in South-West Britain have been given the boot by narrow-minded local politicians in North Somerset.
The property, designed by the late architect Frank Lloyd Wright, had been proposed for land at Tyntesfield Springs, Somerset.
However the planning application attracted opposition from Nimby neighbours. One online objector branded it an unwelcome 'museum piece', adding: 'A design from the 1940s is not what a contemporary and innovative eco-friendly architect would propose.'
It has been proposed by Dr Hugh Pratt, a Wraxall and Failand parish councillor, who had obtained the rights to the design from the Frank Lloyd Wright Foundation after eight years of negotiation.
His proposals were unanimously turned down by members of North Somerset Council's north area planning committee on Thursday on the grounds that the building plot is on green belt land. This law was brought in to stop developers despoiling the countryside, but is also used to stop innovative self-build schemes from getting off the ground
Ahead of the meeting, 22 objection letters were received against the proposals and 14 received in support of them.
Speaking on Thursday, Dr Pratt said: "We would like to offer this country a work of art.
"Should we display this work of art or destroy its chance to be built?"
However, on behalf of a number of objectors, Wraxall resident Pauline Jones said: "This would be harmful to the openness of the green belt and conflict with the purpose of it."
The National Trust, which owns Tyntesfield estate, also expressed concerns as it considers the application site to be part of the 'essential setting' of the Victorian mansion.
Plans for the single-storey villa featuring a series of intersecting curved shapes describe it as an off-grid, self-sustaining building which would sit above a fishing lake created at the site. If permission had been granted, the house would have been the first and only Frank Lloyd Wright-designed home in the UK.
But, Cllr Bob Cook proposed to refuse the plans and said: "To put this concrete, bunker-like structure on green belt land and close to Tyntesfield would be immoral. It is totally against our planning policies."