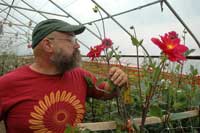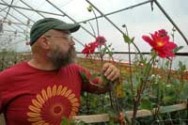 Gerald: an example to us all Matt Gerald's business is growing – flowers, that is. This semi-hippie capitalist/sort of back-to the-lander/child of the '70s likes watching his gardens grow. And boy, does he have gardens. He also grows vegetables in abundance.
"There's nothing like wading through a snowdrift to collect your own fresh vegetables." says Gerald.
Tucked away off Route 3 in Bar Harbor, his Farm consists of four very large greenhouses. Inside he grows flowers for the seasonal trade, as well as vegetables in summer and year round.
While the greenhouses allow an early start on a short growing season, they also provide an additional benefit. "Without them all we'd be doing is feeding the deer," Mr. Gerald notes. "Our game is forcing things out of season."
He started back in 1996 with a small cutting garden. Each year the amount of space devoted to flowers grew as demand increased. "The flowers we're cutting now will be in florists' shops this afternoon," Mr. Gerald said as he sets an armful of Asian and Oriental lily stems into a white plastic bucket full of cold, clear well water. "It took some time for area florists to get used to getting their inventory this fresh," he adds. "They were used to getting their flowers in boxes."
%authorad4%
Now, Mr. Gerald sells some 17,000 lilies and 9,000 tulips a year, along with thousands of other flowers including snap dragons, bachelor buttons, rudbeckia (black-eyed susans) and other varieties. He sells to florists and retails them himself at farmer's markets in Bar Harbor and Northeast Harbor. He gets the bulbs from Holland, and starts some varieties from seed. Lilies come in plastic totes that Mr. Gerald fills with his own soil mixture. The flowers take about 60 days to reach marketable size.
He also grows vegetables that he sells at the markets, and also at A&B Naturals in Bar Harbor. Right now, one greenhouse is loaded with more than 300 tomato plants. Although Sweet Pea Farm is not certified organic, Mr. Gerald runs it as such. "In one of the houses alone we released like 250,000 lady bugs," he said, talking about his method of pest control. He also uses parasitic wasps and mites as needed. Stopping by one vine, Mr. Gerald leans down, picks a tomato and takes a big bite. "I love my office," he said with a laugh.
Along with items for sale, Mr. Gerald, a graduate of College of the Atlantic, raises much of his own food. He has a super-insulated wood furnace in the greenhouse he keeps open all winter. The wood, which Mr. Gerald bucks up and splits himself, makes a hot, intense fire that heats water in a large tank under the floor. That hot water is piped through radiators that run all night. "We use very little oil," he said, noting the greenhouse has a little-used back-up generator.
As the wind blows and snow swirls outside the thin plastic-sheeted walls, inside Mr. Gerald grows kale, collards, carrots, tomatoes, and eggplant. This year he is also experimenting growing potatoes in large wooden tubs made from recycled whiskey barrels.