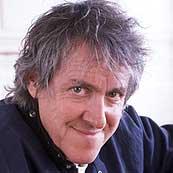 Actor and broadcaster, Griff Rhys Jones has joined the battle against the Grid. He opposes the new electricity towers,or "Super pylons," which are supposedly needed as part of the coming "Smart Grid." Here is Griff's manifesto against the new Super-Grid:
"We live in perplexing times for rationalists. The people of Suffolk have recently been presented with a "choice" by National Grid, the largest electricity provider. You may recognise the proposal from the school playground: "What do you want, a punch or a slap?"
The "punch" is a new length of super pylons across an exquisitely beautiful landscape (Gainsborough countryside). The "slap" is to take them farther south to join an existing run of pylons that already straddles the village of Hintlesham down to the River Stour at Lamarsh (Cedric Morris, Nash and Constable land). Ooof.
Some choice, eh? "Oh," say the people of medieval Kersey on the northern route, "the slap suits us." "Yes," says the county council, "we prefer the slap."
So let's have a massive tranche of cables on 40m gantries, half a mile wide. And National Grid can piously announce that the people of Suffolk "chose" this abomination.
I apologise for this unpalatable truth, but we are actually a richer nation now than we were then. Given that we now store the entire Beatles' catalogue in a fingernail, we have a right to expect that some of those hasty, ill-considered power supply solutions invented 100 years ago should be supplanted by new, advanced technology. Can't we rid ourselves of this tangle of wires that criss-cross our living space as we do, funnily enough, in our own houses? It's expensive to dig up earth, but it is to dig out plaster in a living room. We manage.
Dream on. Irrationality rules. The pylons are part of our latest panic, fostered by this Government. The planet is about to burn, you see.
I am not a climate sceptic. But I am a solution sceptic. Take renewable energy. Wind farms might, if the wind blows, provide a small percentage of our future electricity requirements. They already wreck a lot of our high landscape, but bigger operations are planned for offshore mud flats and sand bars. This seems a sensible idea, except that they need to be connected to a kettle, of course, or that shop heater blowing warm air into the high street, or those government buildings with the lights on all night, or, yes, the computer on which I am writing. To enable this we need to enlarge the existing grid, which means more pylons.
Many environmentalists, even a former head of Greenpeace, now recognise that the real solution to our crisis is nuclear power. They also recognise that the proper renewable solution lies in local supply, not supergrids. We might add that if a supergrid is required, then there is already a blight-free solution from National Grid; an undersea ring main, running around the coast and up to the main centres of population via river beds. All this is technologically possible.
But instead we have pylons coming to wreck the Mendips, Suffolk and Scotland, where a 2003 DTI report explained that "in order to give confidence to the wind energy sector that transmission capacity would be available for their projects in line with the Government's targets, detailed preparatory work on Stage 1 2GW reinforcement should begin as soon as possible". Read that carefully. The real emergency is to boost commercial confidence in this token addition to our electricity demands.
We might expect that, this being a green agenda, its proponents would be sensitive to the desecration, to the huge carbon costs of smelting iron and erecting gantries. But, astoundingly, Friends of the Earth is in favour of new pylons. It wants wind farms so badly. Wind farms offer some sort of vague emotional solace. It needs sacrifice.
The "sacrifice" involved in putting these new cables underground would be about £1 on everybody's electricity bill over the next 25 years. Isn't that a good idea, oh, friend of the Earth? Perhaps it might make all of us look at real solutions to our power needs instead of this half-baked, belt-and-braces tinkering.
Over on the Continent they are busy burying cables near Milan, through Spain, across Jutland and under bits of Belgium. Though it's expensive, they are digging. The cable suppliers estimate the initial costs to be between two and five times more, but they also point out that for maintenance and longevity, this is ameliorated in the long term.
National Grid talks airily of undergrounding as "12 to 17 times more expensive" (based on work carried out in the rocky, inaccessible Highlands, so it seems.) It cannot offer a detailed estimate to the residents of Suffolk, apparently. It is "commercially sensitive information". And commercial is the key word. National Grid is a private company with more than £600 million profit last year.
Last week a diligent researcher identified the site of one of Constable's pictures. Today, if Constable were to look around him he would be astonished at how our society is prepared to undo the evolved beauty he cherished. This proposed run in Suffolk is 36km long. Can't we, as a nation, afford to dig up 36km of that soft Suffolk clay?
To try to avoid having to do such things, the Government recently erected a structure rather more complicated than a pylon called the Infrastructure Planning Commission. This planning-law-busting quango is designed to avoid those bothersome public inquiries. (Why? "Because we are going to burn!") But I wonder whether this supposedly independent body will have the courage to throw out National Grid's bogus consultative process. Will the Infrastructure Planning Commission. really accept this bully's "choice"?
There is an election coming up. Will it be an issue? Well, on behalf of all of us, the people of Suffolk could still make it one. I hope they do.