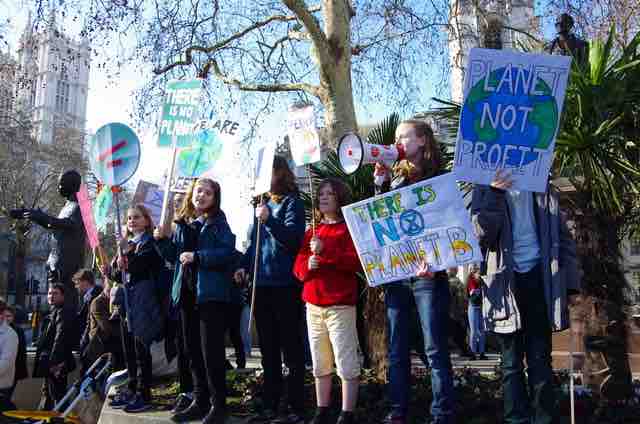 Today it was announced that Extinction Rebellion (XR) will be part of the line up at Timber Festival in the north of England. XR will appear alongside other environmental pressure groups and political movements, including Action For Conservation.
Timber Festival, now in its second year running, is a weekend event hosting a range of workshops, talks, debates and activities focused on climate change. Set in the National Forest, Timber is a unique event that encourages its audience to connect with nature and take another look at their relationship with the natural world.
Debates include Future Activists – a panel of young people involved in the fight against climate change, hosted by The Ecologist's Elizabeth Wainwright. With climate emergency catapulted into the spotlight by Greta Thunberg, young people all over the world are rising up to take part in climate activism. Are we finally waking up to reality and listening to the voices of these young people?
Timber Festival will also encourage audiences to develop their relationship with trees and wildlife through a range of hands-on workshops, talks and performances. These include workshops from The University of Cumbria's National School of Forestry on how to monitor the health of trees (Sat and Sun, 10.30 and 3.30pm) and how to track wildlife (Sat and Sun, 11.30am and 4.30pm). Members of the National Forest Company's Forestry Team will lead tree identification masterclasses (Fri 4.30pm, Sat and Sun 1.30pm), whilst the Met Office's woodland weather station teaches visitors about the role trees play in our climate.
Wildlife-focussed sessions include a lively panel discussion with the International Union for Conservation of Nature on the sometimes-controversial topic of rewilding, which involves re-introducing native species back into their natural habitats (Sun, 12pm). Festivalgoers can also visit the biggest moth trap in the world to help Leicestershire Moth Recorder Adrian Russell to identify moth species (The Moth Hotel, all day every day), and pay a visit to one of the Bee Farmer's 100 National Forest bee colonies (Fri 5.30pm, Sat and Sun 11.30am and 4.30pm).
Director of Wild Rumpus, co-founding organisation of Timber, described the festival as a means of inspiration, stating that she hoped 'audiences will leave Timber feeling inspired that they can do their bit to tackle climate change.'
Timber Festival is a collaboration between the National Forest Company and award-winning arts organisation Wild Rumpus, who specialise in showcasing arts and culture in the natural environment.