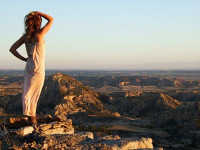 Anything could happen The Nowhere Festival in Los Monegros, Zaragoza, Spain is the annual get together of the European wing of the 'Burners' – as regulars at the amazing US Burning Man event refer to themselves.
It takes place from 8-12 July 2009. Like its US counterpart, its a festival of self-reliance, gifting and improbable sculpture.
Its slightly more tilted towards art installations than its US parent, and there are even grants to help towards the cost of installation and getting there. But hurry. Round 2 grant proposals are due by this Friday, May 22.
Email your applications to art@goingnowhere.org and you could receive up to 200 euros towards 70% of your project's expenses. Check out the website for more details: www.goingnowhere.org/en/artandartsgrants.html
Far smaller than Burning Man, last year's audience was approx 400 people, like Burning Man used to be — it is the perfect entry to the world of radical self-reliance, participation and radical self-expression, and is far more affordable in these credit-crunch times than the pricey US version. Buy a ticket now if you are going. The price is about to rise.
With searing heat in the day and plunging temperatures at night, you need to be prepared. 'Radical self-reliance' means being responsible for yourself and the people around you. You need to bring everything you will need while you are at Nowhere: clothing, food, shelter, toiletries and, most importantly, water. And you ought to try to bring enough to give someone else in case they haven't brought enough.
One of Nowhere's main themes is to leave no trace – but unfortunately the sculptures are not burnt at the end of the festival, which is the high point of the US version. Burning "is currently banned by Spanish law during the time that Nowhere is operating," said one of the organisers. On the bright side – that's less carbon to offset.