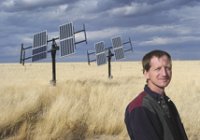 We could all be living like Bob LARAMIE, Wyo. (AP) – When Bob McGovern bought a plot of land west of Laramie, he probably didn't know the extent to which that land would set him on a course toward self-sufficiency and energy independence. It didn't take long, however, for ideas to begin brewing in his mind on how to build a house that was "off the grid."
The nearest utilities to the property are far enough way that McGovern estimates that it would have cost him $25,000 to get service to his house. Instead of forking out that money, he spent time researching everything from small-scale wind turbines to solar panels, battery technology and energy efficiency.
Now, his house and commercial wood shop have all of the heat, light and power that McGovern and his girlfriend desire. They get none of it from the local utility company. Perhaps the only concession to the national utility system is a small propane tank that powers his stove and also powers an on-demand water heater that works in tandem with solar heating of the water.
His total yearly utility expenditures on the property are less than $400, he said.
"Land in Wyoming is cheap, but copper wire is expensive," he joked. "We were able to obtain a nice piece of land, but there were no utilities to it. It suited both my temperament and my inclinations, and it was practical in terms of initial cost for building to not run the utilities here."
"The nearest phone lines are across the highway, and they would have to go under it, which would be very expensive," he said. "The nearest power lines were a mile away at the time."
It started to seem possible, plausible and even reasonable to go off the grid.
"We looked at it and thought we could probably be self-sufficient," he said. "We have full sun 300 days a year and no shortage of wind. No sir."
Even a few years ago, people might have suggested that McGovern was on the fringe, a little unusual. Now, with energy costs climbing steadily upward, he may be starting to look more and more like a genius or a prophet, though he certainly would not use that term in describing himself.
McGovern said that independence and self-sufficiency were the hallmarks of Wyoming's early settlers. It is old-fashioned ingenuity and the willingness to experiment, he said, that really are his defining traits.
Virtually every aspect of McGovern's property is an experiment or a learning experience. Some things he has tried work extremely well. Others, he is still battling with, such as getting trees to grow up on the dry prairie land.
"Around here, very few people have gone off the grid, but in the 1930s, it was perfectly common," he said. "In fact, it is pretty easy."
The real key to making such a plan work is to cut back on how much energy is consumed or wasted. That alone is most of the battle, McGovern said.
"People that want to go off-grid but are using typically American amounts of resources are going to find it almost impossible," he warned. "The trick really is to address consumption first. When you do that, you may find that you don't need the solar panels or the wind turbine, because you are already saving 80 percent on your power bill. At that point, if you want to add something, you only need a few solar panels to make a big difference."
There is no single-source replacement for the power lines that don't run to McGovern's house. Rather, an entire lifestyle and mind-set make the replacement possible. Yes, he does have several solar panels. Yes, he does have a small wind turbine spinning away. And yes, he does have a way to store that power, in a series of large batteries in the house's basement, which can provide power for up to six weeks.
But beyond that, McGovern has made a point to make all aspects of the house efficient. There are large, south-facing windows that provide plentiful free heat in the winter. The design of the house and the materials used all represent an attempt to make better use of the existing resources.
There are some trade-offs that McGovern is willing to make for the freedom that he enjoys. He has learned to tolerate a slightly warmer house in the summer and a slightly cooler house in the winter. But there is a wood-burning stove, and his water that is heated by the sun also provides warmth that radiates up through the floor. In no season is the house uncomfortable.
And while living off the grid does require a few sacrifices, McGovern isn't living in a cave. The 1,200-square-foot house has Internet-connected computers, full electric lighting and appliances and even has plenty of juice to run power-tools in his commercial wood shop. McGovern is no technology-bashing Luddite.
"The glory of living out here is how easy it is," he said. "We don't really have to do very much out here, except fix the wind turbine once in a while. It is quite civilized and easy to live with."
To learn more about living off of the grid, the Laramie Rivers Conservation District is hosting a July 24 workshop at McGovern's residence. Call 721-2571 for more information.
——
Information from: Laramie Boomerang, https://www.laramieboomerang.com