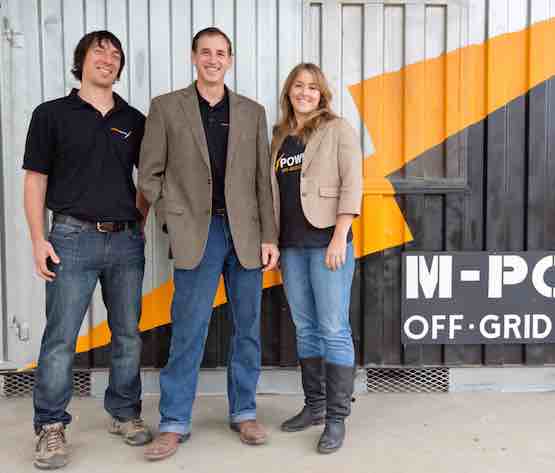 A solar company has won the prestigious Zayed Future Energy Prize for its work in bringing electricity to power-starved areas of Tanzania which currently rely on kerosene, a fuel which is both obscenely expensive and damages the eyes of users, especially children.
Off-Grid Electric was founded in 2011 by three college friends, who realised they could take the money currently being spent every week on kerosene lighting and cooking, and deliver a simple solar kit, which they rent to households, and still make a fortune for themselves.
Armed with the information that 85% of Tanzania's 50 million population have no access to power, they managed to get funding from nuclear power company EDF which liked their business model and saw it could become hugely profitable in the long-term – and not just in poor countries.
With OGE, the African customers pre-pay for electricity via mobile phone at the beginning of each month and in return receive a solar panel, LED lights, and a Li-ion battery, which connects to the panel via a DC cable to allow night-time use.
But is solar power worth it? See this story?
In most regions where Off-Grid Electric operates, it is not cost-effective for utilities companies to serve customers and many customers who have been disconnected cannot often afford the high fees for reconnection. Off-Grid Electric kits offering stand-along systems to a range of "last-mile customers" at costs lower than those of traditional kerosene lighting. OGE delivers varying levels of services using breakthroughs in mobile technology and builds its systems from scratch to incorporate every aspect of product design, distribution, sales, financing and service.
To deliver the energy needed at the right price, Off-Grid Electric brings together lithium-ion batteries, solar panels and LEDs and appliances. "We are relentless in our search for efficient appliances to pair with our state-of-the-art solar and storage systems," says Off-Grid Electric co-Founder and CEO Xavier Helgesen. "Our real intention is to light considerable parts of countries here. We want to provide an electrification solution that is different and much more cost-effective [than the grid]. We are really excited to explore potential options to partner with leaders in the energy landscape like Electranova and EDF."
Matthieu Bonamy from EDF offshoot Electranova says: "Africa is already experiencing a technological "leapfrog" in the energy sector very similar to what has happened in the telecom sector. The market has passed a tipping point and is expanding quickly but, as of today, 1.5 billion people do not have access to grid electricity. We are very interested to explore potential valuable synergies between EDF and OGE"