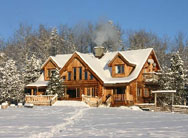 Siwash – generator backup The Siwash Lake Ranch is truly off-grid.  Its  a luxury dude ranch outside Kamloops, B.C where Allyson Rogers, the ranch's co-owner, walks guests through basics such as dealing with trash, recycling and composting. And with the guests onboard (the ranch can host two or three families at a time), Siwash Lake puts out one bag of garbage – every month.
Siwash Lake is one of the most eco-friendly destinations in Canada, according to a rating system devised by the Hotel Association of Canada. It's a small, conspicuously green operation in the British Columbia foothills near Kamloops, running entirely off the grid on solar power and a backup generator.
Of course, luxury lodges have been using all things green as selling points for years.
But a larger move to green the hotel industry is afoot, and it's not limited to self-described eco-tourism operations – upscale or otherwise.
For one thing, there's a new level of attentiveness among guests. Patrons are suddenly worried about nuts and bolts issues such as energy consumption and waste, and with the cost of energy and garbage disposal rising, even national chains are discovering that going green isn't just good public relations, it's good for the bottom line.
Riding this wave, the Hotel Association of Canada is promoting a rapidly growing "Green Key" program that rates hotels on a scale of one to five keys, based on a survey of everything from what they're doing with their wastewater, to how much power they're using.
A complete list of participating hotels and their key ratings can be found at www.hacgreenhotels.com.
Still, although guests are increasingly attracted to green properties, concerns about trading off environmentalism for pampering remain.
"The trick is trying to get people notice as little as possible," says Jason Kelly, the general manager of the Monterey Inn, an Ottawa hotel on the banks of the Rideau that has made a name for itself as a planet-friendly destination by minding basics such as waste reduction, water conservation and carbon offsetting. "There seems to be the stigma that if you're trying to get things environmentally friendly, you might be compromising comfort."
Hotels are also trying to reduce the massive amounts of materials that they consume, and subsequently need to dispose of. That means that, given the rising cost of sending waste to landfills, recycling and composting have become de rigueur, even if guests don't notice.
Small things can make a difference. Some establishments are getting rid of individually packaged soaps and shampoos, replacing them with bulk pumps – even if the soap in those pumps is a luxury brand such as Bulgari, like at the Trout Point Lodge, an upscale eco-lodge outside Yarmouth, N.S.
And in Toronto, the downtown Hilton and the Royal York reduce waste by donating uneaten meals to the city's Second Harvest food bank. (The Royal York also has a roof garden where they grow herbs used in the hotel's meals.)
Fairmont's Chateau Lake Louise, has been pushing the green agenda for decades. Like many hotels, they started with relatively easy changes such as upgrading their showers and toilets with low-flow fixtures, and changing their lighting to compact fluorescent bulbs (facilitated by the availability of compact fluorescent bulbs in shades other than garish white).
But these days the Fairmont is also going further. The hotel is commissioning a biodiesel processor that will take waste fats from its seven restaurants and convert them to diesel fuel that can be used in backup generators. (Right now, the waste fats are being trucked all the way to Calgary for disposal.) It's also using recycled paper for all of its in-room stationery.
All of which isn't to say that altruism is the only thing behind these initiatives.
"Hotels were very slow to gradually embrace this until it became evident that it's a lot more than being socially responsible operators or nice citizens. It actually started to make financial sense to them," says Gabor Forgacs, an assistant professor at the school of hospitality and tourism management at Ryerson University.
The success of the Hotel Association's Green Key program is one measure of how mentalities are changing. About 1,060 Canadian hotels are participating, accounting for about 52 per cent of the beds in the country.
Tony Pollard, the association's president, calls it "an overnight success that took 13 years." He says he started working on the program in 1992, but couldn't get a big enough buy-in from the hotel community. In the past three years, however, participation has snowballed.
The program is self-assessed; hotels rate themselves according to a questionnaire, and the Hotel Association promises spot checks to keep members honest. (Pollard compares it to the government spot-checking income taxes.) The Monterey Inn, the Siwash Lake Ranch, the Fairmont Lake Louise and the Trout Point Lodge are among the handful of Canadian hotels that have a five-key rating.
And consumers are paying attention. Charles Leary, co-owner of the Trout Point Lodge – natural ventilation, no air conditioning, bulk soap dispensers, locally grown organic fruits and vegetables, the whole nine yards – says guest surveys show that 60 to 80 per cent of his 13-unit resort's customers chose to come based on environmental considerations.
And, these days, few hoteliers seem to have a problem admitting that green isn't just the colour of the earth; it's also the colour of cash.
***
Pack your bags
SIWASH LAKE RANCH
$1,895 per adult for a 3-night stay; 250-395-6541; www.siwashlakeranch.com
Green highlights Solar power, ranch-grown fruit, vegetables, eggs and meat and all-natural wastewater disposal.
TROUT POINT LODGE
$159 to $300 a night; 902-482-8360; www.troutpoint.com Green highlights Log cabins designed for natural light and ventilation, waste management, eco-tourism guides on staff. FAIRMONT CHATEAU LAKE LOUISE
Rooms start from $349 a night; 403-522-3511; www.fairmont.com/lakelouise Green highlights Recycled
paper, waste grease turned into diesel fuel, and low-energy water fixtures and lights – right down to the Christmas bulbs outside.
MONTEREY INN
Winter rates start at $99; 613-288-3500; www.montereyinn.com.
Green highlights Recycling, composting and energy-reduction programs.