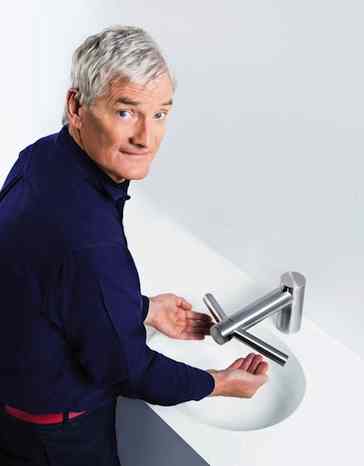 British inventor James Dyson is working on an off-grid toilet design.
One of the most successful Engineer-designers alive today Dyson announced: "One of (my) incubator units is (working on) Loowat, an off-grid, waterless, toilet system that generates biogas for use in the local community.
"It combines a water-less toilet with an anaerobic digester that creates bottled gas for both heating and cooking."
Dyson understand the importance of community financial support for the development of new ideas and ways of living.
Dyson is motivated by improving society and the way we live. "Great ideas are often spurred on by an obsession to improve things that don't work properly," he said.
Like the Grid, for example.
At the moment he is building a table out of an old aeroplane wing." I'm intrigued by Frank Whittle's jet engine," said Dyson. "No one believed it would work and he was refused support by the RAF but he persevered, building the engine himself, and eventually patented his idea. His first jet-propelled aircraft, the Gloucester E28/39, took off from RAF Cranwell in 1941, easily outperforming the Spitfires that fought in the Battle of Britain just months before. Jet propulsion allowed planes to go higher and faster, revolutionising flight."
Dyson likes to support new inventors.
"When I was starting out, I was very much on my own. No one was interested in giving me support, financial or otherwise, which actually made me even more determined to succeed.
"Times have changed. Developing tangible technology can be costly. Inventors need a combination of grants, advice and incubator support if they're to have a fighting chance. We are supporting 40 graduate projects to spin their ideas out of the Royal College of Art's Dyson Building. Each inventor has access to business and patent advice, funding and resources to get their ideas off the ground, and they are having a 95 per cent success rate as a result.
"Access to support is crucial to see more successes, and we must start to see this grow."