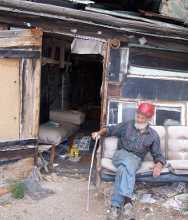 The Wall Street Journal, no less, has run an article commemorating Richard Zimmerman (1916-2010).  The 94 year old "Dug Out Caves in Search of Pay Dirt, Then Rented Them," says the headline.
Dugout Dick was his widely used nickname and he  created a cave condominium.
He was the last of Idaho's river-canyon loners that date back to Territorial days. Other locals swore he was the most self-sufficient individual they knew.
Dugout died in his cave on Idaho's Salmon River also known as the River of no Return.At one time a prospector, Mr. Zimmerman excavated with pick and pry bar a network of more than a dozen caves. He rented out the ones he didn't live in by the day or by the month and serenaded his tenants with tunes plucked out on a battered old guitar. His lifestyle paradoxically garnered international publicity, including a feature in National Geographic and invitations to appear on "The Tonight Show."
"He's the most well-known person in our county since
Sacajawea
," said Fred Snook, referring to the Shoshone woman who served as a guide for the Lewis and Clark expedition. Mr. Snook, an attorney in Salmon, Idaho, once helped Mr. Zimmerman evict a cave tenant who fell behind on his $15 monthly rent.
Raised in Indiana and Michigan, Mr. Zimmerman left home as a teenager to ride the rails. He picked up itinerant jobs cutting firewood and herding cattle. After serving in World War II, he settled in the wilderness of central Idaho and began prospecting. It was while excavating a claim 18 miles south of Salmon in 1948 that he was inspired to set up housekeeping in his mine.
In those days there was a small population of "river hermits," as they were locally called, many with colorful nicknames like Cougar Dave and Wheelbarrow Annie. Some were draft dodgers, others just loners. Even in this company, Mr. Zimmerman cut a distinctive figure, rail-thin and sporting a long white Santa beard and red miner's helmet. He was often spotted hitching a ride into Salmon.
After moving in to his cave, Mr. Zimmerman kept on digging, even though there is no evidence he struck pay dirt. He used castoffs like old doors and car windshields to make the caves more livable.
"You bump your head a lot when you live in a cave," he told the
Idaho Statesman
in 2002.
He planted an orchard and a garden, where his cave tenants sometimes helped out. A windmill he constructed drew irrigation water from the river. His favorite dish of goat yogurt mixed with nettles became a local culinary legend, but he stopped keeping goats when they ate his books.
When Mr. Zimmerman grew frail in recent years, a friend put him in a nursing home in Salmon, but Mr. Zimmerman walked out and hitched a ride home.
Although living in abandoned mines on federal lands is frowned upon, the government made an exception in Mr. Zimmerman's case, said Richard Buster of the Salmon office of the Bureau of Land Management. The remaining renters will now have to find caves of their own. The BLM plans public meetings to air a range of options, from demolishing the caves to installing an interpretive exhibit.
"Some people say he was a part of our history," said Mr. Buster. "Others say we should just bulldoze the whole area. I get both extremes."
Email remembrances@wsj.com
The Wall Street Journal, no less, has run an article commemorating Richard Zimmerman (1916-2010).  The 94 year old "Dug Out Caves in Search of Pay Dirt, Then Rented Them," says the headlineDugout Dick was his widely used nickname and he  created a cave condominium.Richard Zimmerman, or Dugout to everyone who came in contact with him, died Wednesday at age 94 in his cave on Idaho's Salmon River.
At one time a prospector, Mr. Zimmerman excavated with pick and pry bar a network of more than a dozen caves. He rented out the ones he didn't live in by the day or by the month and serenaded his tenants with tunes plucked out on a battered old guitar. His lifestyle paradoxically garnered international publicity, including a feature in National Geographic and invitations to appear on "The Tonight Show.""He's the most well-known person in our county since Sacajawea," said Fred Snook, referring to the Shoshone woman who served as a guide for the Lewis and Clark expedition. Mr. Snook, an attorney in Salmon, Idaho, once helped Mr. Zimmerman evict a cave tenant who fell behind on his $15 monthly rent.Raised in Indiana and Michigan, Mr. Zimmerman left home as a teenager to ride the rails. He picked up itinerant jobs cutting firewood and herding cattle. After serving in World War II, he settled in the wilderness of central Idaho and began prospecting. It was while excavating a claim 18 miles south of Salmon in 1948 that he was inspired to set up housekeeping in his mine.In those days there was a small population of "river hermits," as they were locally called, many with colorful nicknames like Cougar Dave and Wheelbarrow Annie. Some were draft dodgers, others just loners. Even in this company, Mr. Zimmerman cut a distinctive figure, rail-thin and sporting a long white Santa beard and red miner's helmet. He was often spotted hitching a ride into Salmon.After moving in to his cave, Mr. Zimmerman kept on digging, even though there is no evidence he struck pay dirt. He used castoffs like old doors and car windshields to make the caves more livable."You bump your head a lot when you live in a cave," he told the Idaho Statesman in 2002.
He planted an orchard and a garden, where his cave tenants sometimes helped out. A windmill he constructed drew irrigation water from the river. His favorite dish of goat yogurt mixed with nettles became a local culinary legend, but he stopped keeping goats when they ate his books.
When Mr. Zimmerman grew frail in recent years, a friend put him in a nursing home in Salmon, but Mr. Zimmerman walked out and hitched a ride home.
Although living in abandoned mines on federal lands is frowned upon, the government made an exception in Mr. Zimmerman's case, said Richard Buster of the Salmon office of the Bureau of Land Management. The remaining renters will now have to find caves of their own. The BLM plans public meetings to air a range of options, from demolishing the caves to installing an interpretive exhibit.
"Some people say he was a part of our history," said Mr. Buster. "Others say we should just bulldoze the whole area. I get both extremes."
Email remembrances@wsj.com