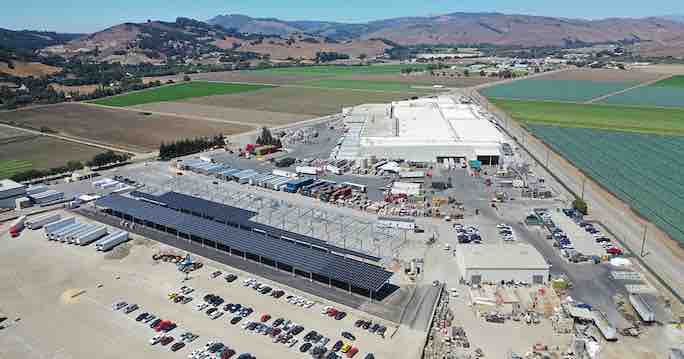 Power outages are even more costly to food producers and distributors than they are to the rest of us. Loss of refrigeration can mean loss of product. Safety rules often require shut-down and sanitizing even if the outage is short. So it's not surprising that the food industry is turning to off-grid for more reliable electric supply.
Bluehouse Greenhouse, which specializes in sustainable indoor agriculture has hired developer Endurant to build an off-grid microgrid for the company's 2.8 million square ft. greenhouse. The highly-automated glass structure will produce 50 million pounds of fresh produce annually.
Why go off-grid?
Bluehouse Greenhouse decided it was too expensive and too difficult to interconnect with the grid. "We had to think about what is the most resilient solution, where are we going to get the most benefit for our money and investment, and where are we going to have the most secure energy system," said Ari Kashani, CEO and founder of Bluehouse Greenhouse.  Most microgrid developers find that grid-connection approvals significantly delay their projects. Will others follow the Bluehouse Greenhouse model?
And another two!
Most North American microgrids are grid connected, allowing them to take services from the grid or sell services to the grid as needed. But Taylor Farms is going entirely off-grid. The major California fresh food producer is building a standalone power supply in partnership with Bloom Energy, Ameresco and Concept Clean Energy.
Almond World, a refrigerated cold storage developer in California's Central Valley, is another food facility that is taking its energy operation off-grid. The company has partnered with Origo Investments to build a facility in the Madera Airport Industrial Park that will include an off-grid microgrid designed and built by Scale Microgrid Solutions.
Bimbo Bakeries, the maker of such products as Thomas' English muffins, Arnold bread, and Sara Lee and Entenmann's pastries is installing microgrids to meet its sustainability goals. The company announced plans in 2022 to install microgrids at six manufacturing facilities over the next year with the help of GreenStruxure, a subsidiary of Schneider Electric.
And there's more…
But its not just food companies which are going out on their own.  Sunnova  – the rooftop solar company – has gone into housing development to provide itself the rooves it needs.
It's not always easy to develop community microgrids because they clash with the conventional utility model. So Sunnova has proposed a new approach — microutilities that operate standalone facilities in newly built California neighborhoods of fewer than 2,000 customers. The plan requires state regulatory approval.
Like Sunnova, Cuyahoga County, Ohio, sees outdated utility rules getting in the way of energy development, so it is creating its own utility company. The county utility will oversee multiple microgrids built to encourage economic activity and improve energy resilience.
Even Energy companies are going off the grid!
Entergy is among many existing utility companies investing in microgrids as part of its $9.6 billion planned grid resilience upgrades. The company famously resisted local demands in New Orleans for an off-grid backup before the weather related outages of 2021.
Even Google plans to build the microgrid as part of an 81-acre mixed-use development on the west side of downtown San Jose. And it's getting support from a pro-microgrid city government.
Now the US Military is getting on on the act
The military was an early adopter of microgrids and has aggressive goals to install more. The Army plans to build microgrids at all of its bases, and, in October, announced how it will proceed. Similarly, the US Navy and Marine Corps intend to build cybersecure microgrids at critical military facilities as part of a climate strategy.
A $22 million microgrid at Marine Corps Base (MCB) Camp Lejeune, the largest Marine Corps installation in the world, is one example. Duke Energy will install the microgrid to support the critical education and training facilities at Camp Johnson, home to the Marine Corps Combat Service Support Schools at MCB Camp Lejeune.
Joint Base McGuire-Dix-Lakehurst (JBMDL), an Air Force, Army and Navy base in New Jersey, is doubling down on its resilience efforts by incorporating a microgrid as part of a multifaceted, multiyear energy upgrade. The Defense Logistics Agency and JBMDL awarded Ameresco a $92 million project to update mission-critical infrastructure at the joint base. This is the second phase of a project initiated in 2021; in total, JBMDL is investing $140 million in the resilience and energy efficiency project.
The Naval Submarine Base New London in Groton, Connecticut has reached an important milestone. The project achieved commercial operation of a 6-MW fuel cell (7.4 MW when it reaches full capacity) by FuelCell Energy.
Some energy futurists see the grid eventually becoming a grid of microgrids. For now, the concept of connecting microgrids is still in its infancy. The most notable is a project underway by Commonwealth Edison in the Bronzeville area of Chicago.
The project featured here, a community being developed by KB Home, is also worth watching. It is designed so that each home has its own nanogrid that is connected to a central microgrid. The central microgrid connects two neighborhoods for energy sharing.
Sandia National Laboratories and Emera Technologies are taking the next step to enable bidirectional flow between multiple interconnected microgrids — a grid of grids — under a project funded by the US Department of Energy's Technology Commercialization Fund.
The effort stems from their partnership on a DC/AC hybrid microgrid demonstration project at Kirtland Air Force Base in New Mexico, which is designed to illustrate how direct current (DC) microgrids can be integrated into the current alternating current (AC) electrical system to provide resilient power to homes and military installations.
Do you know of a new microgrid in your area?  Contact news@off-grid.net