By Sophie Demarco in Gower, South Wales.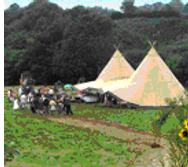 Anyone can join in Like many others, I have the dream of living in a sustainable home made from completely natural materials. But there is the problem of my complete lack ofpractical building skills.
When I heard about the 'Down to Earth Project' open day offering free tasters workshops in natural building, I jumped. Its in Gower, Wales' 'area of outstanding beauty' the project describes itself as ''a centre for practical sustainability, natural building and wilderness therapy''.
We arrived at Down to Earth about 10a.m after following some step-by-step instructions culminating in a trail of balloons down a winding pathway. We came upon a wooden barn, which we later discovered was made by the young volunteers, disadvantaged youths. Like all of the other buildings, not only was it natural but also it was beautiful.
Down to Earth Project director, Mark McKenna greeted us and gave us a list of times and workshops for the day. There was an excellent turn out and the crowd continued to get bigger.
After a look around the building admiring the craftsmanship we were ushered to the centre of the field where a giant tipi tent stood. We drank up our tea and put on our wellies.
Sitting on hay bails we listened to Mark McKenna who talked about the project and then introduced some speakers. Mark gave us an insight to what the project was all about and made us all feel really enthusiastic about being there.
Jane Davidson AM Minister for Environment, Sustainability and Housing gave a positive review of Wales' general sustainability. Mike Theodoulou the Young People's Fund Committee Member from the Big Lottery Fund outlined other projects that had been awarded lottery money. Maybe it was the hay bails or the giant tipi but instead of being frustrated about the current effort for the environment hearing these people talk left me feeling really positive.
The project offers courses to disadvantaged youths and adults to learn old-fashioned methods of building. Not only do these opportunities allow them to learn valuable skills and highlight environmental issues but also they give the chance for people to create something physical and permanent whilst getting their hands dirty.
Deciding between dry stonewalling, cob building and lime rendering I walked into a wood horse, I'd found green woodwork. The workshop leader gave a small group of us a demonstration. We cut down long branches and used forearm length pieces; slowly shaving them down with draw knives in the hope of creating a spatula. I soon forgot was I was trying to make and got lost in the process. It was really relaxing and I quickly realized what was meant by 'wilderness therapy'. After an hour we reluctantly left the workshop and made our way back up top the barn. Lunch had been served and to my delight it was a vegetarian buffet.
With full a tummy I eagerly made my way to cob building. This is what I'd been waiting for, I had brought my wellies and I intended to get muddy. We sat in a den, with a turf roof heated by a cob fire and waited for the workshop leader. From where we were sitting I could see people learning how to make dry stonewalls. I could feel the sense of community watching all the visitors getting stuck in together. Everyone was adding to the structures, putting their fingerprints into it.
The leader, Jen, arrived and explained that we would be making cob to add to the seating area. We started making cob by mixing second layer soil, water, hay and clay. The clay was necessary because we would be making a sculptural back to the seat. Using a tarp sheet we mixed it all up and then jumped up and down on the cob to split the hay. After putting the cob into hand sized balls Jen showed us how we should build them into the structure. This was really enjoyable, we had to apply them like bricks then pushing our fingers down into the cob to make sure the hay had gone into the cob ball below. It was really tangible and sticky. I felt like a child with play dough.
It was time for the last workshop, lime rendering. We strolled past the pig enclosure and followed the pathway down to the cob house made my Down to Earth group. A group was at the site, rendering the interior walls of the house. The leader explained ingredients of the mix and I took an opportunity to look around the building. It was interesting to think about all the people who had got involved with this particular structure and everyone there seemed to have a personal rapport with it.
All the leaders and volunteers were passionate and were really skilled; you couldn't help but feel enthusiastic too.
It was three o'clock and the day was finishing, I left with a feeling of satisfaction, I'd helped to add to the expanding community structures, and I was one step closer to my cob house.