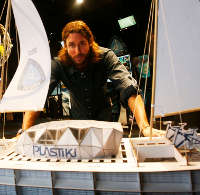 David de Rothschild has revealed he prefers life off-grid and can't stand carbon off-setting.  "There is just something more satisfying about living off-grid," he told me at the launch of the NatGeo control room in London which will be the land HQ for his next great adventure.  "You are much more aware of your resources, managing them …. making decisions about what I can use and when I can use it.
"Especially on an expedition you are really aware that you only have limited resources  – I prefer living off-grid, " he said.
The aristo-adventurer, and rumored  former boyfriend of Cameron Diaz, is about to set sail on his vessel made from plastic bottles. The Plastiki is a 60-foot catamaran which will be home to David and his crew for an  11,000-mile voyage due to kick off next month, out the Golden Gate and across the Pacific to Sydney Harbor.
His point: If the world continues to create 260 million tons of plastic products each year, it's critical to find ways to reuse the non-biodegradable material.
Otherwise, some of that trash can wind up bobbing in a spot Plastiki will soon set sail for, weather and sea-trials permitting: the Great Pacific Garbage Patch, a borderless swath of floating debris that sprawls across much of the Pacific. It is symbolism at its simplest, a boat made of recycled plastic plying a sea of wasted plastic.
He hates being called an eco-celebrity – "It makes me want to puke and you can quote me on that" he said – his normally good-natured tone switching to a menacing growl.
He calls it like he sees it, which is refreshing and all too rare in the privileged world he occupies."I hate the hypocrisy of carbon offsetting," he reveals to my delighted surprise.  "I call it carbon off-putting."
He retreated to a farm near Christchurch in New Zealand when he was 19, and set about reducing the divide between man and nature.  The place has its own water and  is now off-grid ready – it would be completely off-grid but he can't overcome local NIMBY opposition to his proposed wind turbine.  He grows his own food and sells it locally  — veg, meat,honey.
For de Rothschild, the Plastiki Expedition combines adventuring with activism, which is the aim of his Adventure Ecology organisation,which raises awareness of climate issues. This one already has scored news media coverage in more than 30 countries. Nickelodeon's British website has carved out a permanent niche for Plastiki, while National Geographic Adventure has dedicated a full-time blogger.
There will be enough food for three weeks plus emergency rations. Though there will be island layovers, de Rothschild and crew will mostly fish for their supper and collect rainwater for hydration. "There's a certain degree of self-sufficiency," he says. "But otherwise, we're definitely out there on our own." Some of the crew's challenges will be self-imposed. The cramped nature of the geodesic cabin means the sailors will be hard-pressed to find privacy, which may come only from hopping on a bicycle straddling the pontoons. Its pedal power converts to electricity.
"Pushing people to confront climate issues requires a range of actions, from policy changes to projects like David's," says Josian Heyerdahl, 26. She's the granddaughter of Norwegian ethnographer Thor Heyerdahl, who in 1947 sailed a balsa raft named Kon-Tiki — Plastiki's inspiration — west from Peru to show that early South Americans, and not just Asians sailing east, could have populated Polynesia.
A few eureka moments stand out. One was discovering how to make rigid the otherwise crushable bottles that adorn the flanks of Plastiki's pontoons, there as much for effect as to cushion the blow from punishing waves.
Turns out, when you place a little dry ice powder into a bottle and cap it, the powder turns to gas, expands and makes the receptacle as solid as a brick. So the gang dropped powder into 12,000 bottles — by hand.
"Our boat is just one giant floating water bottle," he says.
This simple image, de Rothschild adds, could be enough to shift people's attitudes toward recycling and the environment.