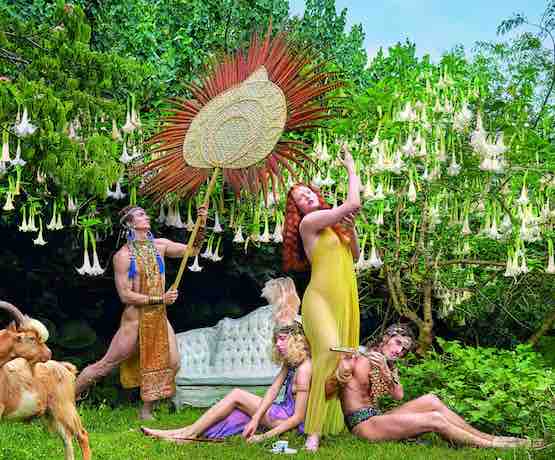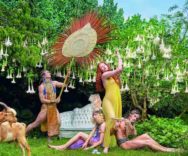 An off-grid photographer has created Lavazza's 2020 calendar and he calls it an Ode to Nature.
American photographer David LaChapelle, made commercials and music videos with the likes of Whitney Houston, Elton John, No Doubt and Amy Winehouse.
The 2020 calendar was shot in Hawaii -where LaChapelle moved from New York in 2006 -and is focusing on the intimate relationship humans have with the natural world.
In the mid-1980s, LaChapelle lost his then boyfriend to AIDS.He fled to London, where that city's counterculture proved enormously influential in forming his aesthetic. "I thought I'd seen it all. When I went to London, the level of creativity and insanity … they were on a whole other planet." He was particularly struck by that culture's insistence on originality, rather than copying. For him, Los Angeles had been "the literal opposite". While living in London, he married the female publicist of the UK popstar Marilyn and the marriage lasted a year."
In 2006, LaChapelle abruptly quit Los Angeles. He moved to a "…very isolated part of Hawaii in this forest. It's off the grid, bio-diesel cars, solar-powered, growing our own food, completely sustainable. I thought 'OK, I'm a farmer now.'" LaChapelle's change in path eventually brought him back to his roots. While in Hawaii, a longstanding colleague invited him to shoot for a gallery, which he hadn't done since his days as a fledgling photographer in New York. "I was really shocked", LaChapelle recalled. "I'm so known as a commercial artist, a big name as a fashion and celebrity photographer, I didn't think a gallery will take me seriously. It's like being reborn; it's like rebirth; it's like starting over. It's back to where I started, where I very first started in galleries when I was a kid. It's just come full circle."
The 2019 calendar was a project by American photojournalist Ami Vitale and featured images of six nature art installations aiming to raise awareness of efforts to protect the environment