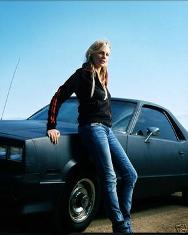 Hollywood icon Daryl Hannah is already a poster girl for the off-grid revolution. The interview she gave www.off-grid.net in 2005 made her Colorado staging post the world's most famous off-grid address.
Now Hannah has revealed she has a second off the grid property, this one in California.
Hannah told an obscure Santa Cruz community TV station that she lives  in a solar-powered Southern California farm she refers to as "misfit circus," home to abandoned and disabled animals.
She arrived at the studio in her 1979 Pontiac Trans Am she drove in 'Kill Bill.' The actress and environmental activist appeared live with local ecologist David Blume on Community TV's live call-in show "Eco-Review" to promote ethanol as an alternative energy source.
Here is footage of Hannah showing us round her protest tent at The Farm.

"Many, if not most, of the problems we face as a species come from the way that we produce our energy," Hannah said.
Last year, she had the sports car converted to run off 85 percent ethanol, or E85, a move she says refutes concerns from the U.S. Environmental Protection Agency about using higher blends of ethanol.
Federal regulations limit the amount of ethanol per gallon of gas to 10 percent. The EPA is considering a waiver that would allow states to mandate an increase in the maximum alcohol fuel blend to 15 percent nationwide. Opponents of the E15 waiver cite safety concerns, namely corrosion and overheating, and some are skeptical of ethanol's environmental benefits.
Blume and Hannah argue that increasing the use of alcohol as a blended additive will reduce toxic emissions currently generated by burning gasoline.
"People just don't know that alcohol fuel is a possibility," said Blume, who'll travel with the actress to the capital this afternoon for a press conference encouraging the EPA to lift the restriction sooner rather than later.
The Live Oak ecologist is a man Hannah calls her environmental "guru." The pair has been working together for more than a decade, and it was Blume who suggested Hannah resurrect the iconic car as a spokes-vehicle for their cause.
"Rats were under the hood," Blume said. "She wouldn't drive it because it ran on gas, so it was just sitting there." The "Splash" actress, who turns 50 this year, has been arrested twice after making waves protesting as a staunch environmentalist. She chained herself to a tree in 2006, protesting a Los Angeles landowner's decision to evict farmers from the property to make room for a warehouse.
"I wasn't making an environmental decision at the time," Hannah said of becoming a vegan as an 11-year-old, "but it seems when you take an action that's a mindful, responsible action in one way, it's going to be better for everything else down the line." Other panelists on the hour-long show were Karl Ryan of Professional Touch Auto Body in Scotts Valley, who stripped the peeling paint from the Trans-Am and applied an eco-friendly coat, and Dave Stoltz, an Auburn engineer who helped with the fuel conversion.
The foursome took calls from viewers locally and farther afield, including an "ethanol disciple" from Wisconsin who praised Blume's work. They discussed alcohol as an alternative fuel not only for transportation but also for use in cook stoves and home heating systems.