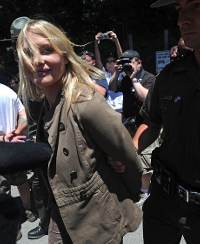 It beats plugging movies Off-Grid actress Daryl Hannah has been arrested during an anti-coal protest in West Virginia.
The Splash star,who has off-grid homes in the Rockies and Malibu, was taken into custody after she and others blocked a road into a coal mine in Raleigh County, Tuesday.
Daryl, 48, was protesting against plans to use controversial method of mountaintop removal mining, which involves blasting the mountain summit off to expose coal seams. She was arrested on misdemeanour charges of obstruction and impeding traffic, and not for the first time.
Other arrested protesters included NASA scientist James Hansen and retired local politician Ken Hechler.
'There is no need to destroy our planet to power our future. I have been on renewable energy for about 20 years, so I know it works," said Daryl.  Renewables are " realistic for everybody,'she said.
Daryl and protesters were met by local miners, who insisted they would loose their jobs if the mountaintop removal mining was blocked. They held signs reading 'West Virginia miners say go home'.
Daryl has "reverence for the interconnectedness of all living things'.