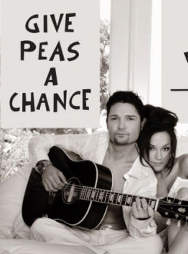 Feldman's  "philosophy" Bad boy actor turned musician Corey Feldman has been telling the LA Times about his new eco-tour.  The teetotal, vegetarian rocker (is that not a contradiction?) has a biodiesel generator stage left to power his gigs.
The band is called Truth Movement. Their 2008 album "Technology Analogy" is "about technology and where was it derived, and where it leads us," says Corey.
His first concert last week was a sneak-peak at plans to tour America using clean, sustainable energy to power up shows. The actor joined forces with a team of eco-boffins to develop a 24-month plan for festival-type concerts run completely off the power grid.
He says, "I have been a proponent of sustainable energy practices for many years and I can't think of a better way to create real change in the world than to partner with companies and individuals to bring the Off the Grid Tour to fruition, proving that effective implementation of alternative energy sources can be done."
Its a very exciting way to bring off the grid thinking to the mainstream and we applaud Feldman who has been the butt of media cynicism for years.
"There's a cynicism that goes along with my name," Feldman, who'll be 38 this month, told the Times"I have been vastly misrepresented by the press, media, bloggers, pessimists and naysayers, and it hurts. I spend 80% of my time doing charity work. . . . It deeply saddens me every time I hear somebody quickly . . . discarding me as some crazy drug addict or loser, or washed up. I was called 'washed up' when I was 20 years old."
The 1980s movie icon — Mouth of "The Goonies," Teddy of "Stand by Me," Pete of "Gremlins" — wants you to know he really is a good guy.
Since last summer's second season of the A&E reality show "The Two Coreys" and last July's long-awaited (but direct-to-DVD) feature "Lost Boys: The Tribe," Feldman has kept largely quiet. But lately, he has been talking up his Pink Floyd-esque band Truth Movement and its goal of making concerts environmentally friendly. In addition, he says a "Lost Boys 3" is in the works and a sequel to the beloved "Goonies" is not entirely out of the picture.
"My job, it seems, in life is to educate the world that, 'Hey that was just the beginning of my life, I'm still very young and have a long way to go.' "
But sometimes it seems letting go of the past is the hardest part of going forward. Two days before Feldman's first concert on his band's "Off the Grid" tour at Universal CityWalk, Michael Jackson died.
Feldman, who famously befriended the pop singer during his own teen years, went into a painful self-reflective mode. Although Jackson and Feldman were close at one time — and Feldman said he remains friendly with the Jackson family — they had a public falling out in 2001. Then, amid the singer's felony child abuse charges, Feldman publicly stated in 2005 that their relationship may have been inappropriate.
Since Jackson's death, though, Feldman has been calling him a "role model" and "dear friend."
"It makes you realize that you really have everything you value in life, and every moment and breath," Feldman said of Jackson's death. "I really learned it's a bad idea to let unfinished things go unfinished.
"It's nice to have closure," he continued. "It's unfortunate to me that I will never have that closure. But there is also a part of me that says I do, because of the reconciliation with the family and friendship there."
—
The domestic scene
In person and at his West Hills home, Feldman is endlessly accommodating. Offering a Snapple from his refrigerator, he is the opposite of his bratty and rambunctious kid character persona.
The walls of his house are layered in reminders of his past: framed posters of "Stand by Me," "Lost Boys" and "License to Drive," a colorful painting of his long-haired, late-'80s likeness.
Other big-kid memorabilia are scattered throughout: a '90s-era Street Fighter II arcade game, a Wurlitzer piano. A digital photo frame shows Feldman with Susie, his second wife (whom he married on "The Surreal Life" in 2002), and his estranged best friend and longtime costar, Corey Haim (with whom he says he recently broke a yearlong silence).
"I'm a big believer in energy," Feldman said, pulling back his freshly dyed, rock-'n'-roll-style black hair. He is skinny, proclaiming to not eat meat or drink alcohol, and boasting of converting Susie to vegetarianism. Their 4-year-old son, Zen, has lived without meat "from conception," he said.
Feldman's eco-themed band, Truth Movement, ties directly into his beliefs. When the group — backed by Scott Page, who played saxophone for Pink Floyd in the '80s — played CityWalk, Feldman billed the show as a first-of-its-kind in taking live music "off the grid": It used an on-site bio-diesel generator, sitting to the left of the stage, for power.