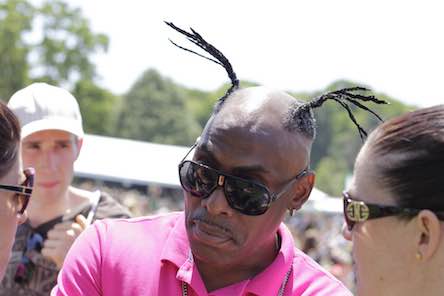 American Rapper Coolio has told a newspaper he is preparing for a social collapse and plans to end his days off-grid.  "I've acquired knowledge of people and the world — knowledge that will help me survive in any given situation" he told the SundayTimes. " I can track stuff. I can fix a car. I can build a house. I could build a wind turbine if I wanted to.
"I'm preparing to live off the grid, without electricity, air conditioning and heat. You could say it's preparation for an apocalypse or a natural disaster. The poles are shifting and I'm not optimistic about the future," he said.
Coolio,  best known for his hit single Gangsta's Paradise, would like to get rid of the entire tax system — and believes tax is illegal under the US constitution.  "If I was in charge, I'd get rid of tax completely. I'd get rid of money too. I'd go back to the barter system. In my opinion, and according to the constitution of my country, tax is illegal."
The Grammy award-winner, who says he is not on good terms with the Internal Revenue Service (IRS), believes investing in people, gold and diamonds is the best way to save for his retirement. He admits, though, that he has an expensive shoe habit and buys a pair "at least once a week" — sometimes for as much as $1,000 [£785].
He does not personally own any property – "Property can be taken away from you by "eminent domain" [the right of the government to seize your property]. That can happen to anyone in America. I'm going to put all my money in people, gold and diamonds.
 "As for gold and diamonds, that's something you are always going to be able to use to get food and water. I'm thinking ahead to the time when a bottle of water is going to cost $10. Hopefully, I won't live that long, but I think that time will come.
Back when he was starting, said Coolio "to make ends meet, I hustled. I sold things: drugs, shoes, jewellery, whatever I could get my hands on. The name of my first album was It Takes a Thief, you know? I've been around the block a few times. It made me determined — determined to not live like that for the rest of my life. I got mad at myself. I told myself: "You should be doing better. You're smart enough — you should be Steve Jobs [the founder of Apple] or someone like that. Get off your ass and go get some money.
"I had to sleep in my car. Sometimes I didn't have enough money to pay the rent and would get thrown out of where I was living. Other times, I went hungry. I was fortunate in that I had good friends around me who would spot me a $20 bill if I asked them to.
"My mother, Jackie Mae, was a gangster. She took money with her pistol and her knife. She was never a hooker but when it came to money, she believed: "[Get it] by any means necessary."
"But we were all born dying anyway. I'm not scared to die. I've had a fulfilling life. When my time comes, I'm going to leave with a smile on my face . . . or a grimace at the bullet that killed me.
"I support the Jarez Music Foundation. Jarez is a young musician in Vegas, and he has a music foundation which is trying to put musical instruments back in schools. I'll work and perform for his foundation for free, and I mentor some of the kids."
Born Artis Leon Ivey Jr, Coolio's big hit was released in 1995 and featured on the soundtrack of the film Dangerous Minds, starring Michelle Pfeiffer. It became one of the most successful rap songs of all time, reaching No 1 in the charts in the UK, America and 14 other countries. He has released eight studio albums.
This autumn Coolio joins the I Love the 90s tour, playing dates in the UK between September 29 and October 7 alongside other acts who had big hits in that decade, such as Vanilla Ice and Salt-N-Pepa.